Some of the links in this article are "affiliate links", a link with a special tracking code. This means if you click on an affiliate link and purchase the item, we will receive an affiliate commission. The price of the item is the same whether it is an affiliate link or not. Regardless, we only recommend products or services we believe will add value to our readers. By using the affiliate links, you are helping support our Website, and we genuinely appreciate your support.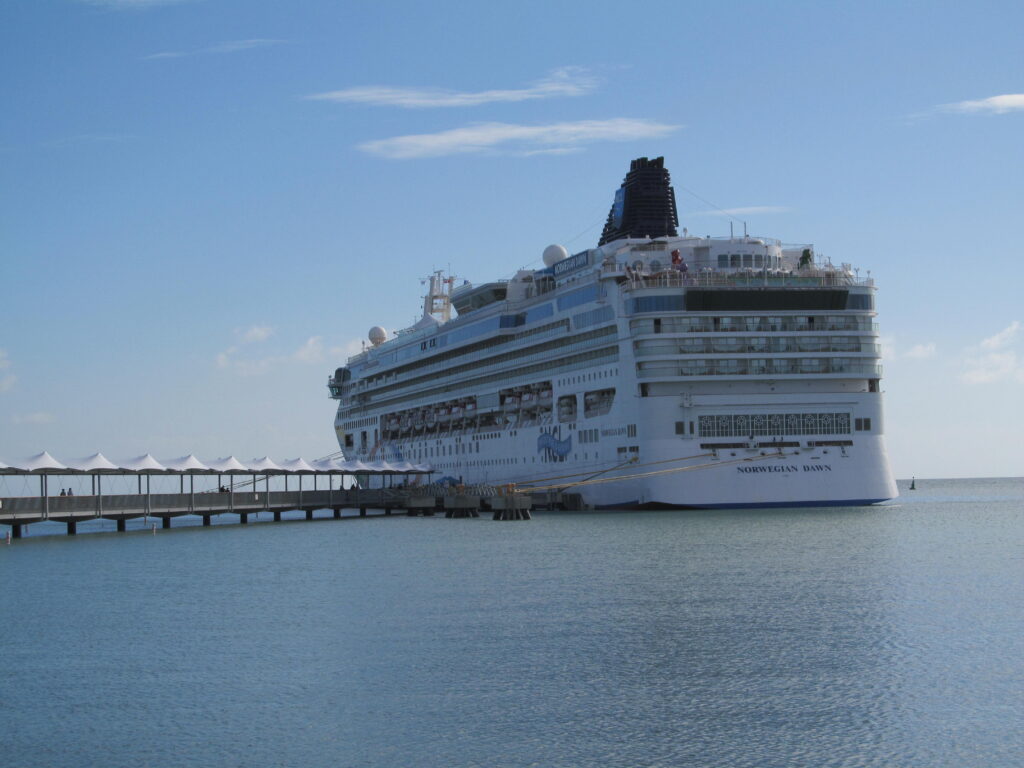 For my husband's 40th birthday (pre-COVID), I surprised him with a cruise to the Caribbean, something he had been wanting to do for a long time. I had never been on a cruise before and he had been on a short 3 day cruise with work a couple years prior. I really had no idea what I was doing when I booked this trip, being a cruise virgin and all. But his birthday celebration cruise to the Caribbean with Norwegian turned out awesome!
I booked this seven day cruise out of New Orleans since my brother lives close to the port. I figured we could knock out a visit with him and go on our cruise; two birds, one stone. Plus we could park our car at his house so we wouldn't have to pay to park it at the port. It worked out well and I would definitely recommend trying to do something similar if you are able to since during our second cruise a couple years later we did park at a port and it was annoying for a couple reasons.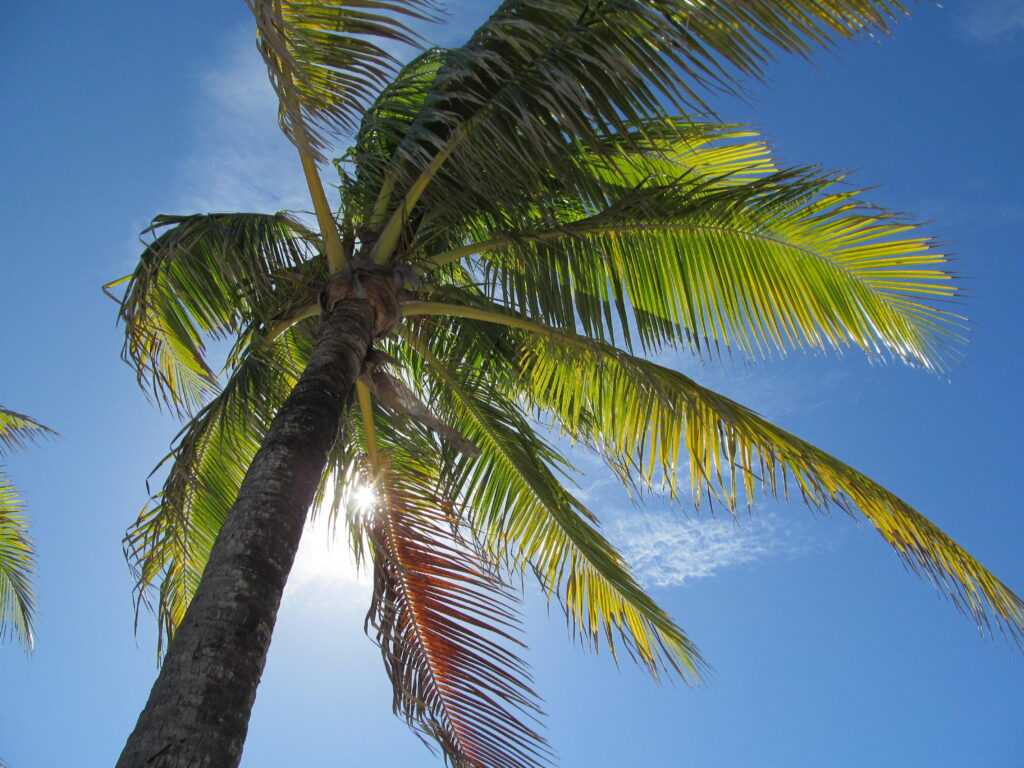 This cruise had a great itinerary, our first stop was in Costa Maya, Mexico. We booked an excursion at this destination to visit the Mayan Ruins. And I have to say it was really cool, but OMG, it was the hottest freakin day. To get to the ruins, we took a long bus ride crammed full of people, then had to walk a far distance from the entrance to the actual ruins.
While strolling around the ruins, again it was so cool to see and it was along the coast so it was beautiful, but it was so damn hot and there was nowhere to get some shade. Everyone was stripping off clothing, walking around in bathing suits and getting burnt…. bad. So yes it was a cool excursion, but it was hard to enjoy when you felt like you were gonna pass out from heat exhaustion.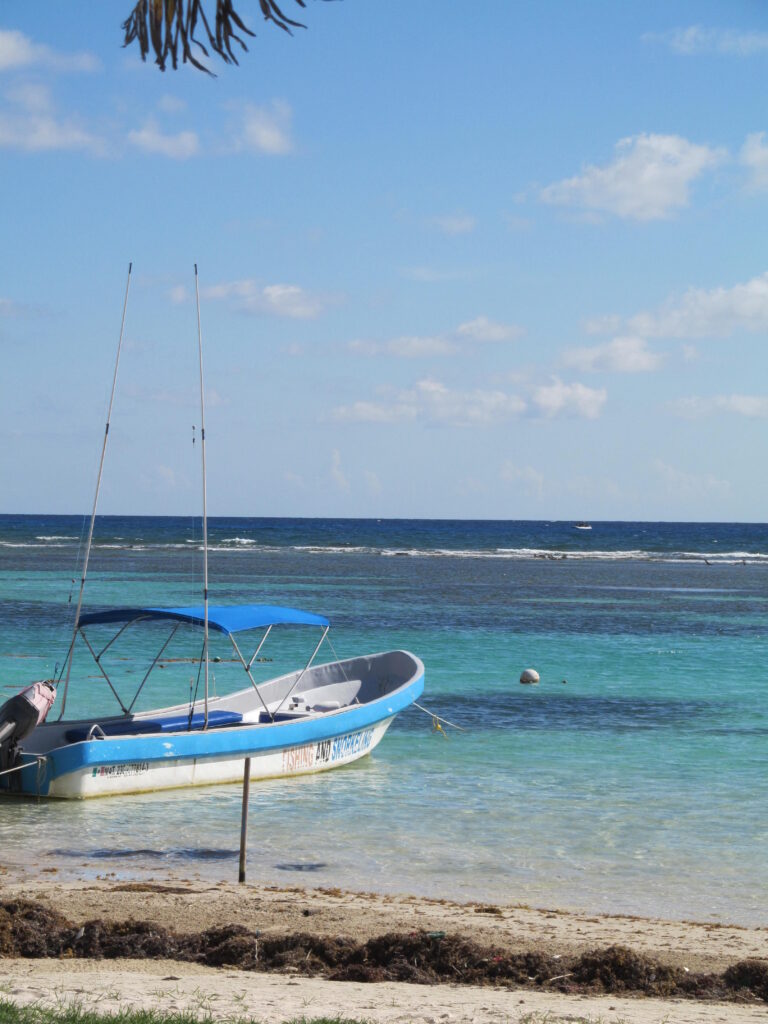 Harvest Caye, Belize was our next stop. And what we didn't know ahead of time is that this is a Norwegian owned resort. So it was a day of rest and relaxation at the beach. It was beautiful! But just know that this is a beach day, it's not a day to do adventurous excursions.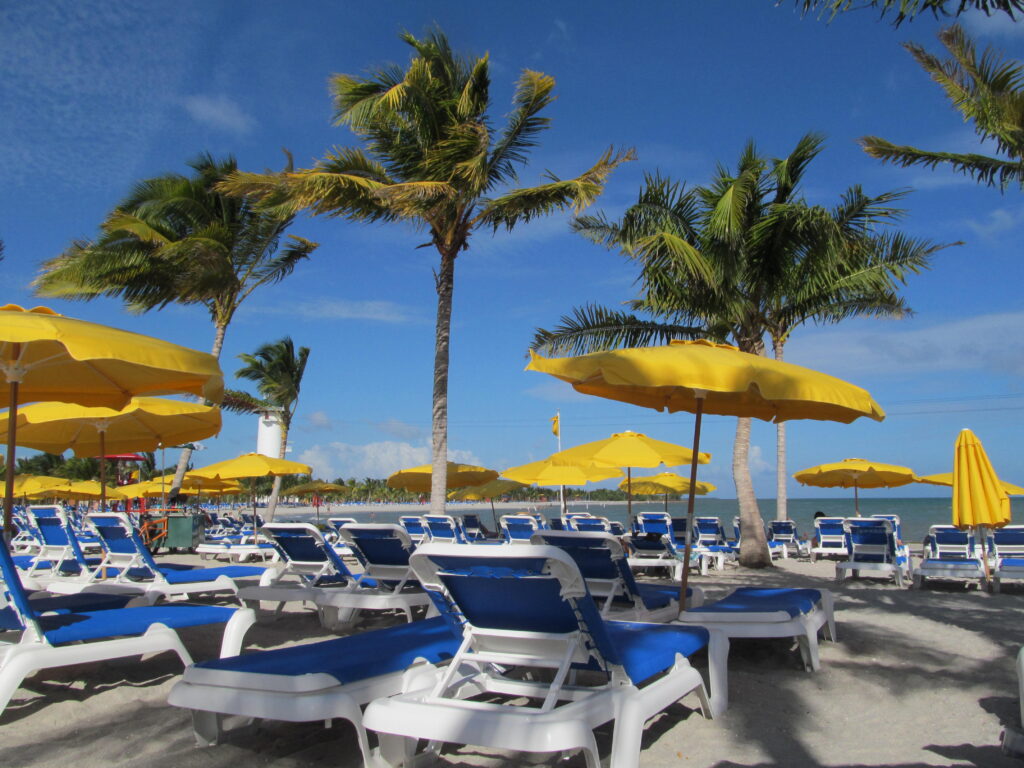 Our third stop was to Roatan Bay Islands, Honduras. We decided to sign up to go snorkeling at a reef, a first for both of us. I hate to say but it was pretty lame. It's not what I thought it would be at all with bright colored fish swimming around an equally colorful natural reef. Everything to me looked cloudy brown and the water was rough. Our guides kept telling us to stay together because you ran the risk of getting cut if you bumped into the reef but with the rough waves, it was impossible to stay in a close group. Plus the dude in front of you isn't paying attention so he about kicks you in the face with his flippers, more than once.
If you have never been snorkeling before, it's kinda weird, I almost had a panic attack in the water. Which is so not like me, I am not claustrophobic, I am not high anxiety, I can swim well enough not to drown, but I guess the situation as a whole just about did me in. One man in our group had to be dragged around and back to shore by one of our guides on a little kid's kick board. I was bound and determined not to pussy out like that dude. So after awhile I gave up on even trying to look under water, I just kept swimming fast to keep up with the group, not get cut and not drown.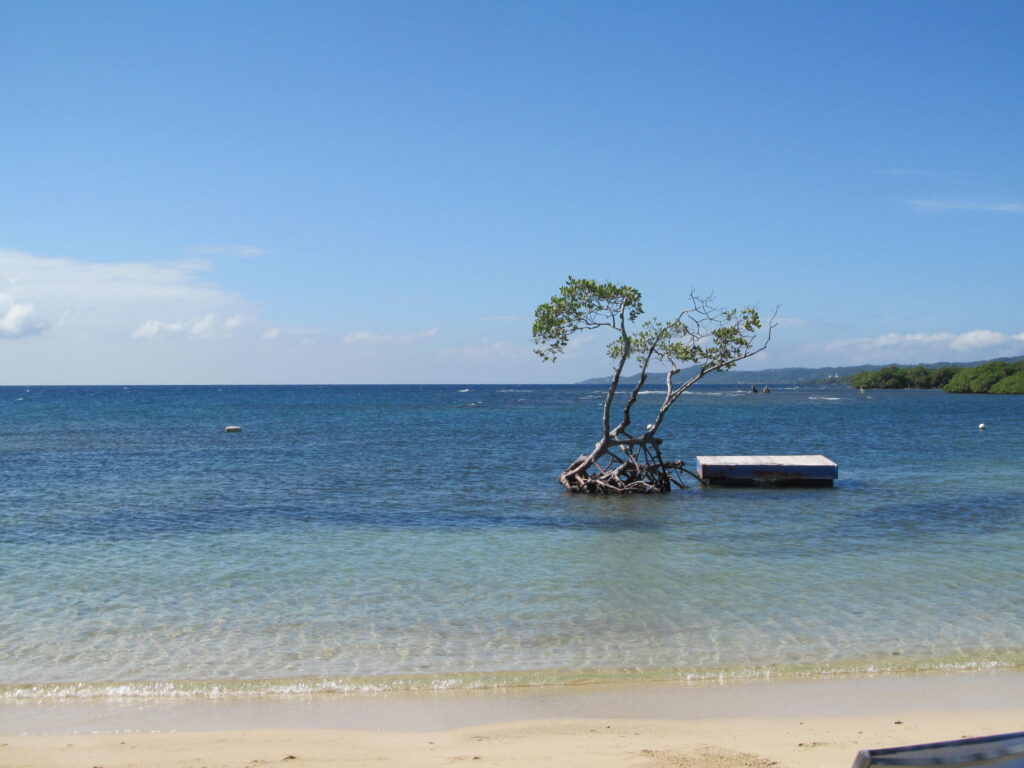 When the snorkeling was finally done, thank goodness, we chilled out on the beach and that was the coolest part of our whole trip just about. On the ride back to the cruise ship, one of our guides asked if anyone wanted to see the real Honduras. And a bunch of us raised our hands. Seemed like a good idea at the time, I mean really, when will we ever go back, probably never. So hell yeah, we are in!
The guy took us to this local outdoor restaurant, everyone ordered the weirdest stuff. My husband of course was the only one brave enough to try the iguana. It's tasty but full of tiny bones in case you were wondering. Then we walked over to some random guy's backyard where he had little caged monkeys that we could pet, again seemed like a good idea at the time. Hell no, don't ever go to some stranger's house in Honduras! Well we got to pet the monkeys and they were so cute and fun. Until I got back to the cruise ship and saw I was now covered in flea bites from those freakin monkeys. Again, don't go to some random dude's house in the middle of nowhere Honduras, we are lucky we didn't get killed.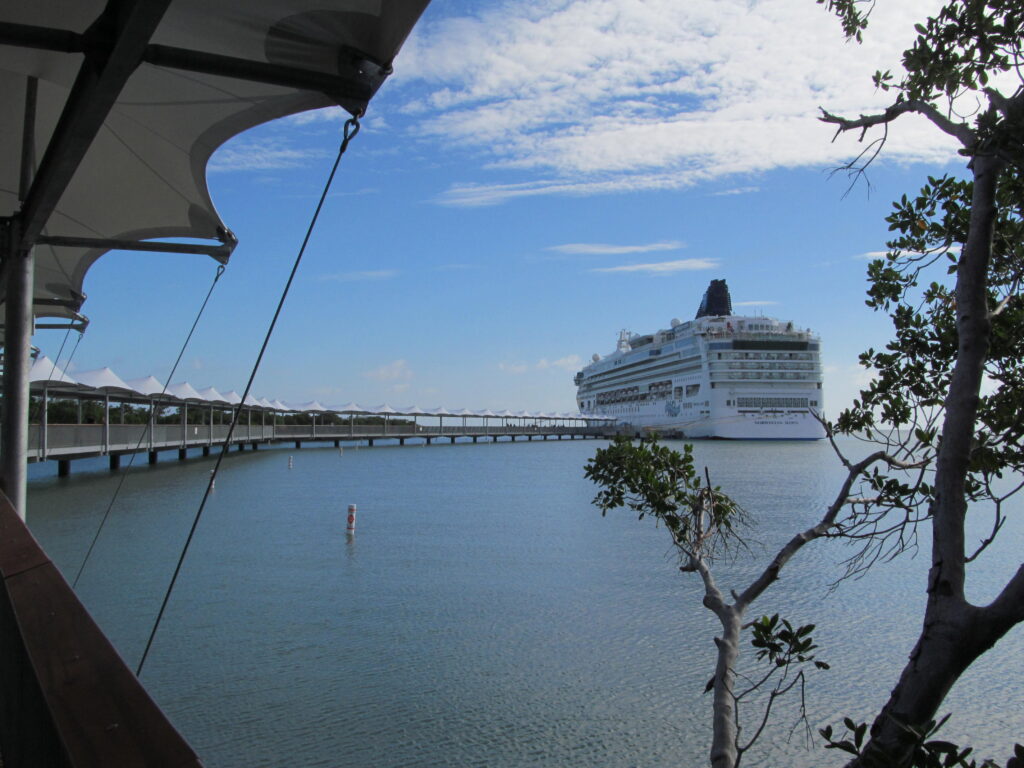 And if that wasn't enough, my husband wanted to get some local cigars, and by this point we were the only ones still standing so we let the guy take us into town to a cigar shop. To buy real high quality Cubans I am sure. After that, we did finally head back to the boat. That night at dinner, we heard about all of the cruise tourists that go missing in Honduras. Uh yeah, crap, wish I knew that before we docked. But I couldn't worry about that, I was worried that I caught some deadly disease from those flea bites all over my body that itched for the rest of the trip.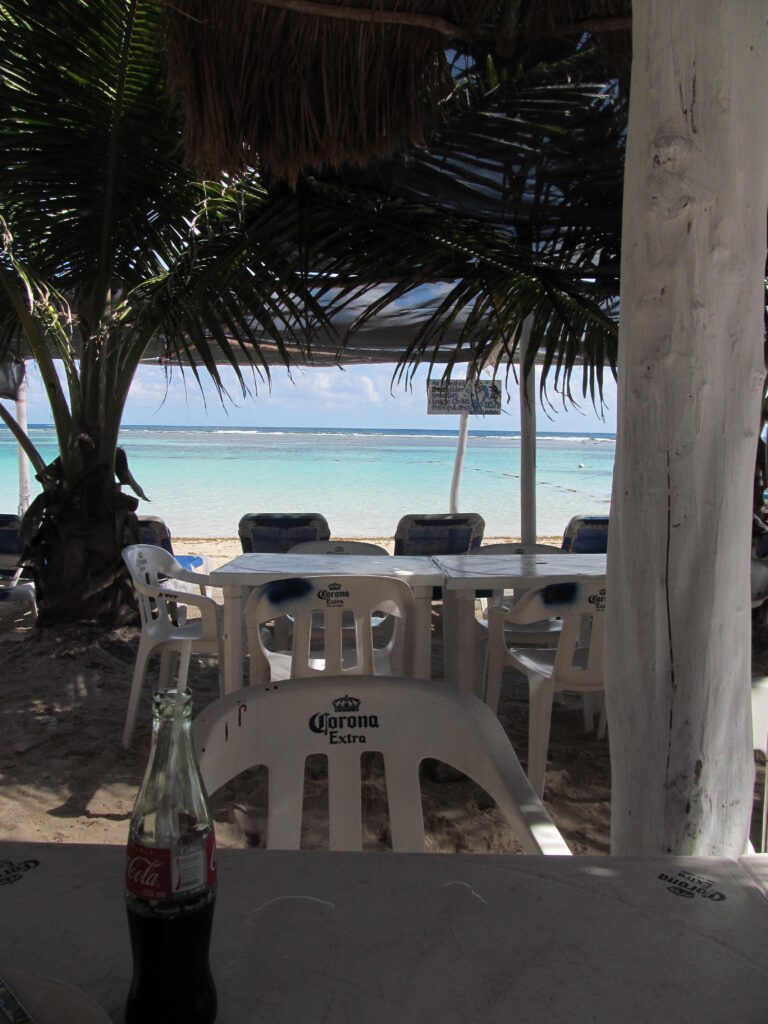 The next day of the trip as we were heading back to the U.S., we stopped at our last port Cozumel, Mexico. This is a beautiful place, but it is a tourist trap. As soon as you get off the boat you walk into a huge market full of souvenirs and crap to buy. We somehow found a taxi stand, and I use that word loosely since the taxi was more like a hay ride, and we set off for downtown Mahahual.
The town was beautiful, basically a long strip along the beach. On one side of the street were shops and restaurants and on the other was a beach filled with ladies offering massages, like every 2 feet and patios tables that were owned by the restaurants and bars. We went into one and decided to order lunch beach side. This meal was the most amazing meal of our entire trip! We then dodged past all of the massage tables and got back on the boat.
Norwegian Cruise Tips:
This 7 day cruise had 1 day at sea at the beginning and at the end of the trip. I highly recommend doing this, it was a great way to unwind before our trip ended.
We were able to get a free alcohol package by booking our cruise during a sale. Get the alcohol package!
Every morning the cruise staff will slip an itinerary under your cabin door. We didn't get one the first couple of days and kept missing the activities on the boat.
Be open to meeting people on the boat. We met a couple from New York and I think it made the trip so much more fun to have people to pal around with during our downtime.
Know that not all restaurants on the boat are free and only 1 was open late at night. So it was hard to get something to eat during off hours.
Bar service was phenomenal! The staff were very attentive and would bring us a new drink anytime we were hanging out on the patio. We didn't even have to go up to the bar.
Take some Dramamine, but don't worry about getting sea sick. My husband easily gets motion sickness in a car but he didn't have any troubles at all on the cruise ship.
Book the cheapest room possible, interior with no windows. Seriously, you will hardly ever be in the room and if you are you will be asleep, so save your money for something better like an excursion.
Before our trip, I went online and ordered a birthday package which included our cabin being decorated. My husband loved that surprise and the cruise ship upgraded our cabin to one with a port window which was really nice of them to do for his birthday.
Feel free to ask me questions about our cruise experience by leaving a comment below!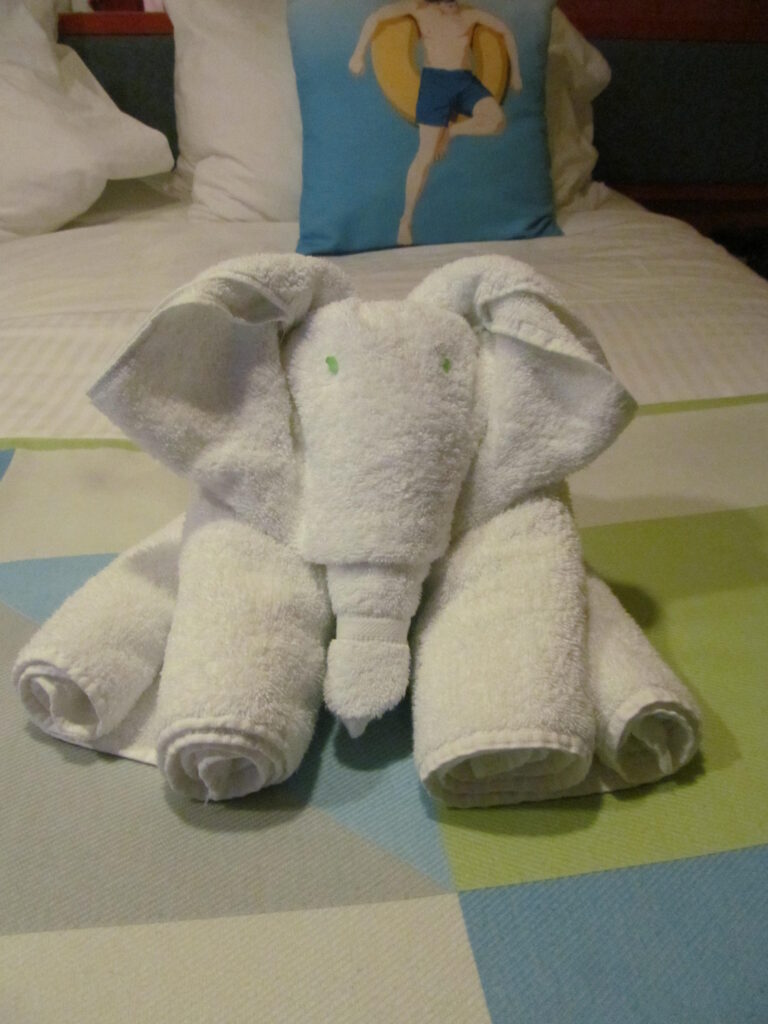 Don't miss these travel guides: