Some of the links in this article are "affiliate links", a link with a special tracking code. This means if you click on an affiliate link and purchase the item, we will receive an affiliate commission. The price of the item is the same whether it is an affiliate link or not. Regardless, we only recommend products or services we believe will add value to our readers. By using the affiliate links, you are helping support our Website, and we genuinely appreciate your support.
I know I am a little late getting started on my goals for February but life kinda got in the way for the past two weeks. Eh, it happens. For the month of February, I want to focus on building stronger relationships with those closest to me and perhaps seek out new friendships as well. At the end of the day our relationships are what matters most. Family is spread out all of the country and true friends are few and far between. Our February Monthly Focus Worksheet will keep me and you on track this month.
There have definitely been times when I realized that I had not seen or spoken to a particular person in weeks, sometimes months. It can be so crazy how fast time passes. So this month, I want to slow down and really put some work into fostering closer relationships with my family and friends. I also plan to take a hard look at all of my relationships to decide if I still want to maintain the relationship. If a relationship is not mutually beneficial or drains the life out of me, maybe it's time to part ways.
As I get older it seems much harder though to make new friends which is why I think a lot of us stick around and keep putting up with the bull crap. Sometimes the devil you know is safer and sometimes it can seem better to have someone rather than being alone and waiting for the right one. I also think relationships come in all forms, some people are meant to be more superficial acquaintances or work pals but not intimately close, and that is o.k., we just need to realize what level the relationship is currently on and just accept that as fact. Not everyone needs to be a ride or die and you don't have to love every aspect of each person. I think part of growing up is accepting people for who they are and not placing our expectations on who we want them to be.
Our February focus worksheet is pretty self explanatory, broken up into smaller areas to focus on throughout the month. I have been working on a few of these focal points, but I really need to get moving on devising my plan. Before too long it will be March and we'll shift focus onto another subject and I don't want my relationship building goal to go unmet for this year.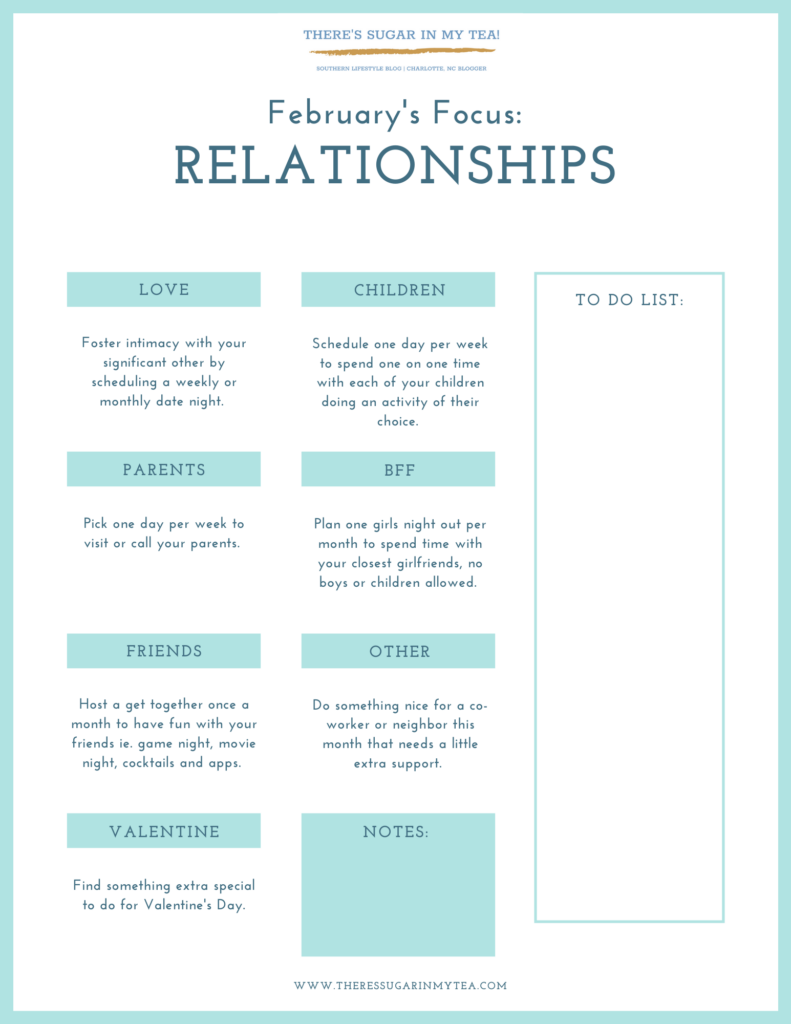 I hope this has given you a bunch of ideas on how to build stronger relationships and how to reconnect with those most important in your life.
If you need to catch up on January's Monthly Focus Worksheet on Setting Goals for 2020, it's not too late to start now! We have lots of good information to help you plan out your goals in our previous posts:
5 Organizational Products I am Loving on Amazon
How to Get Organized and Prepared for 2020
Leave a comment below on how you like to stay connected with friends and family!