Some of the links in this article are "affiliate links", a link with a special tracking code. This means if you click on an affiliate link and purchase the item, we will receive an affiliate commission. The price of the item is the same whether it is an affiliate link or not. Regardless, we only recommend products or services we believe will add value to our readers. By using the affiliate links, you are helping support our Website, and we genuinely appreciate your support.
(This post was last updated on: 2/7/23.) Charcuterie boards are all the rage online right now. Are you wondering what the big fuss is all about? Charcuterie boards are simply meat and cheese platters. You have probably seen them for years and even made them as an appetizer for a party you threw.
It doesn't have to be super fancy. It's just a mix of cured meat, cheese and occasionally other goodies that you like. Learn how to create a charcuterie plate or board today. We created this one with ingredients all purchased at Aldi. We'll break it down for you in step by step instructions.
Choosing the right elements for your charcuterie plate.
The first step is to pick what you will use as a platter. Look around your kitchen for an oversized serving plate or a pretty cutting board. Then make a grocery run. We chose to shop at Aldi since they have a pretty good fancy cheese section. We made this charcuterie plate for under $25. And truth be told, there were enough leftovers, we could have made 2 charcuterie plates.
When you are at the grocery store, pick out 2-3 cured meats. Then pick out 2-3 cheeses. Add in a few more items that you like such as dried fruit, nuts/ nut mixes, pickled veggies or olives. We would recommend a minimum of 5 items for your plate, however depending on the size of your platter, you can add more.
Aldi charcuterie board shopping list.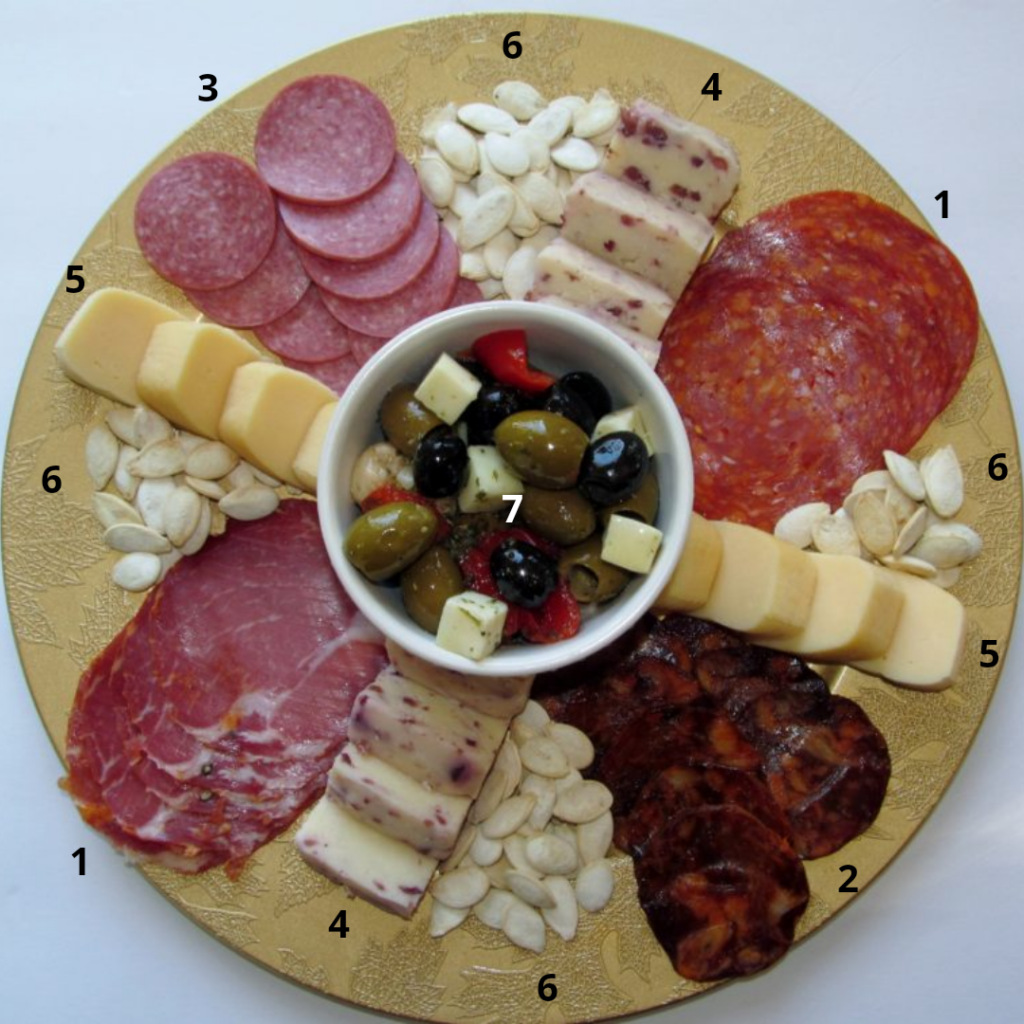 1. Trio of Cured Meats $4.49
2. Sliced Chorizo Flavored Salami $3.99
3. Sliced Salami $4.99
4. Cranberry White Cheddar Cheese $2.99
5. Smoked Gouda Cheese $2.99
6. Pumpkin Seeds $1.89
7. Antipasto Salad $2.99
Choose a theme for your charcuterie plate.
You can but do not have to choose a theme for your charcuterie board/ plate. Sometimes "Stuff I Like" is a good enough theme. But if you want to make one for a specific event, then picking a theme can be fun.
Our plate was Fall themed, so we choose cheeses that play to the season and added in some pumpkin seeds to be our space filler. Your theme could be holiday or season driven, a special event like a birthday or you can choose a locale as your theme ie. Greek/ Mediterranean, Italian- choose meats and cheeses from that region.
What to serve with your charcuterie board.
Crackers
Baguette Slices
Flatbread
Mustard
Capers
Mini Peppers
Hummus
Fresh Sliced Veggies
Honey
A charcuterie board makes a great appetizer when you have guests over, but sometimes it's nice to make one to enjoy with your spouse. Sometimes we like to make one for lunch or dinner when we feel like pigging out on snackie foods. Let us know what you like to incorporate in your charcuterie plates in a comment below!