Some of the links in this article are "affiliate links", a link with a special tracking code. This means if you click on an affiliate link and purchase the item, we will receive an affiliate commission. The price of the item is the same whether it is an affiliate link or not. Regardless, we only recommend products or services we believe will add value to our readers. By using the affiliate links, you are helping support our Website, and we genuinely appreciate your support.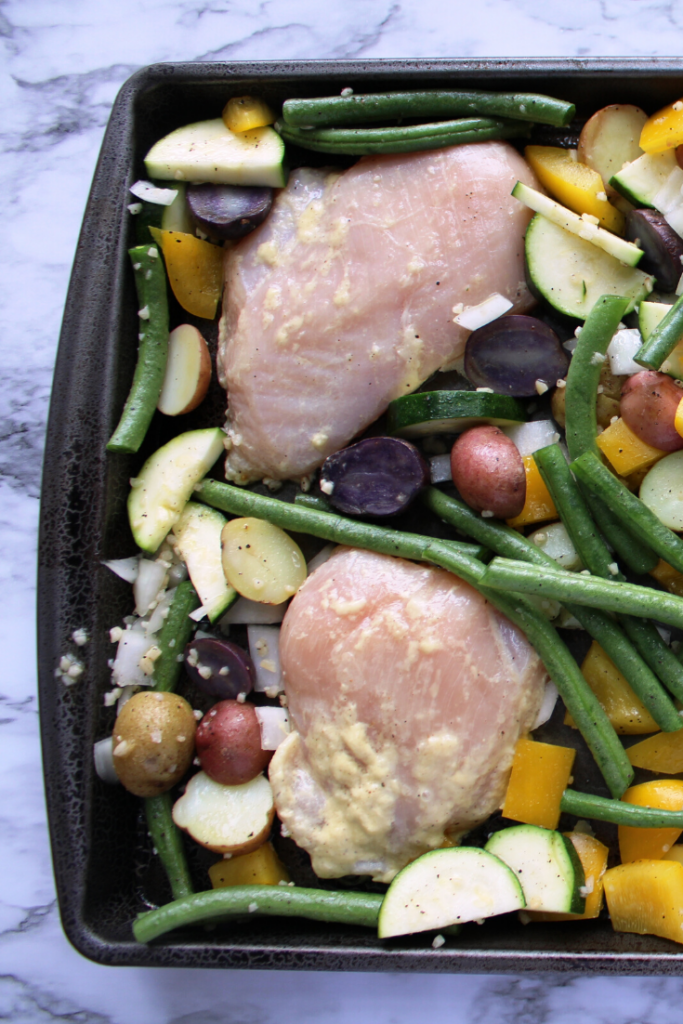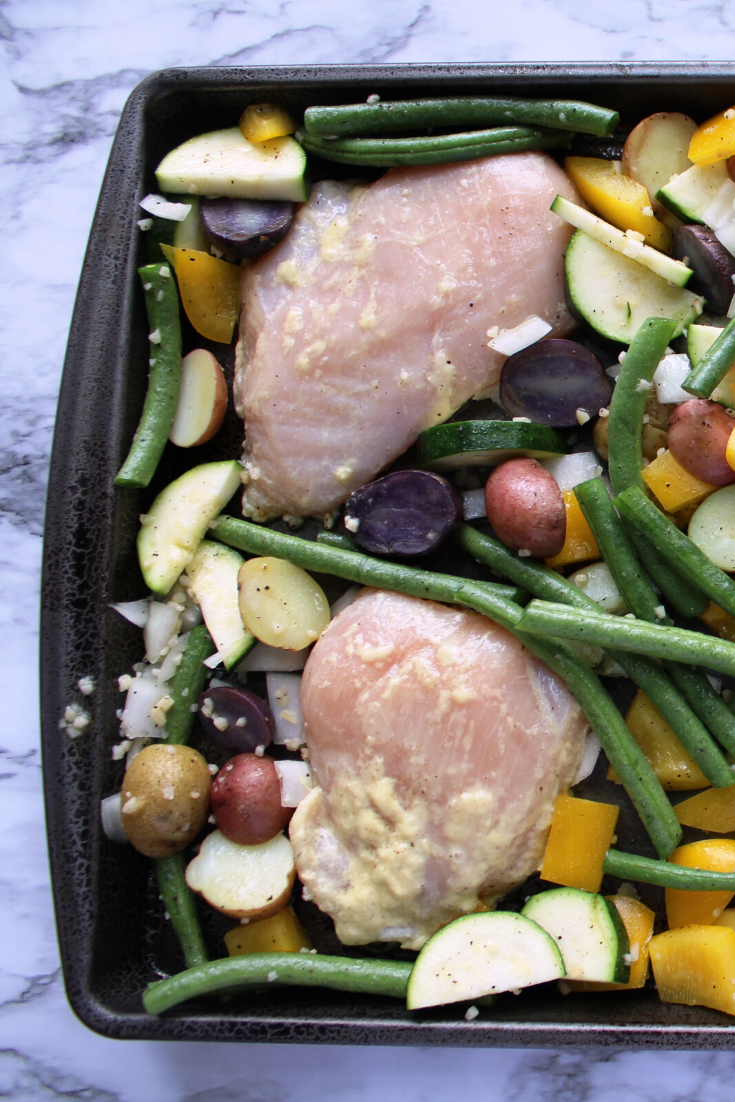 Are you looking for an easy weeknight dinner recipe? Sheet pan dinners are so easy! It doesn't take a lot of time to prep or cook, which is perfect when you are on the go, trying to get to your kid's game or dance recital. Or maybe you have a lot of stuff to do in the evening at home and don't have a lot of time to get a healthy and delicious meal on the table. This recipe is perfect for you! It's an easy sheet pan chicken dinner, but you can swap out the protein for whatever you and your family prefers ie. steak, fish, shrimp, pork chops, turkey, etc.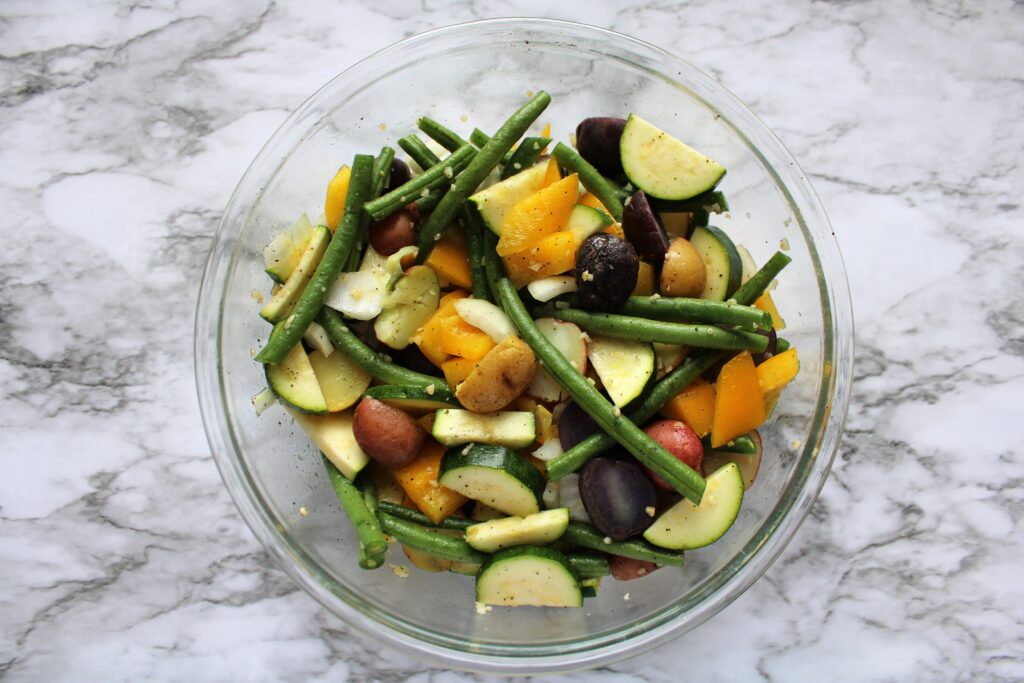 I first started by taking 4 small pieces of boneless, skinless chicken out of the freezer and placed them in a gallon sized plastic bag. I poured in a bunch of marinade and let it do it's thing while the chicken was thawing out. I used a vidalia onion vinaigrette dressing that I bought at Sam's Club. Any type of Italian dressing or vinaigrette that you have on hand would be good for this dish.
When I was ready to begin cooking dinner I first prepped approx. 2 cups of baby potatoes- sliced in half and I nuked them in the microwave for 4 minutes since potatoes can take longer to bake then other veggies. When those were done, I added in produce that I had in the fridge: 1/2 vidalia onion, 1 yellow pepper, 1 zucchini, handful of string beans and 2 tablespoons of minced garlic. I tossed all of the vegs in a bowl with some olive oil and salt and pepper.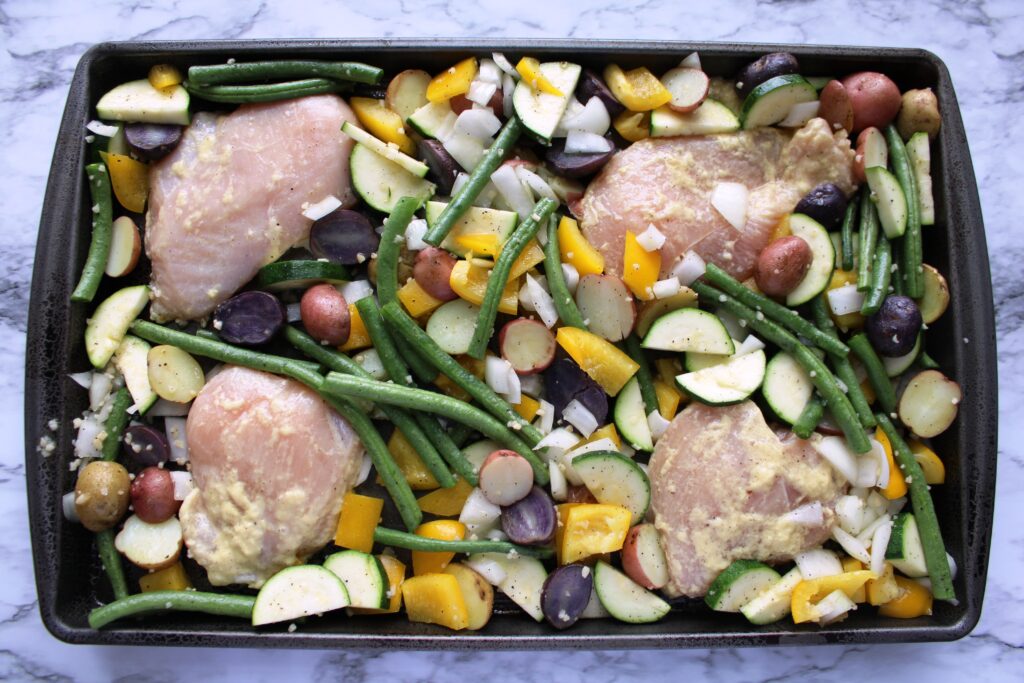 I sprayed an extra large cookie sheet with non stick spray. I placed my chicken on the pan first, then dumped all of the vegetables onto the tray. Bake at 350 for 30-45 minutes, until chicken is cooked through and veggies are tender. Boom! That's it, see so simple.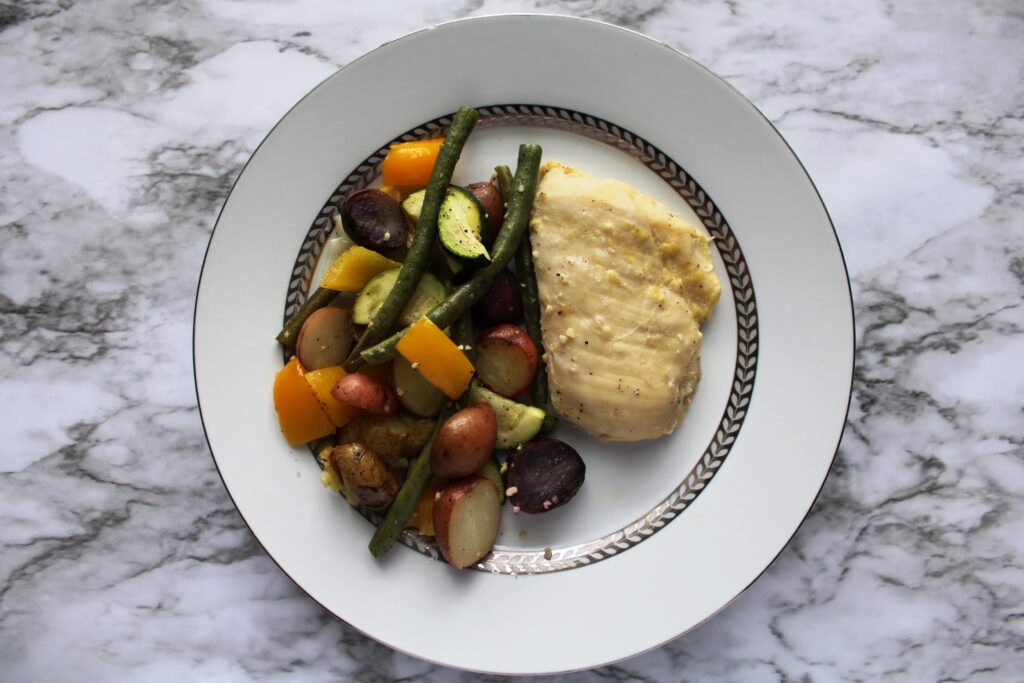 This is not only easy to put together and takes hardly any prep time, but it is a great way to use up produce that is getting close to being tossed out. So you can swap out the meat, use whatever marinade/ salad dressing you already have and use whatever veggies that you like to eat. Plus clean up is super simple since all you need is a cutting board, knife, bowl and cookie sheet to prep this dinner. That's always a good thing in my opinion.
I served this dinner with a side salad. You could add in a dinner roll. But really the beauty of this dinner is that it's all inclusive. You don't have to add any sides to the meal unless you really want to.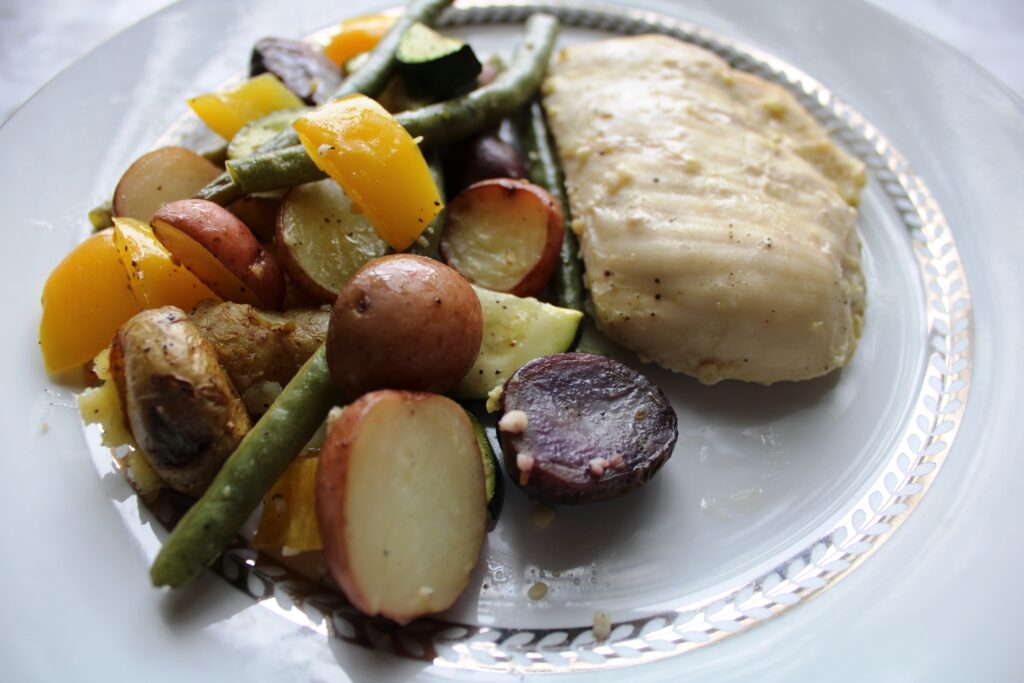 Let me know, have you tried making a sheet pan dinner before and if so what do you like to include in your meal? Leave me a comment below! Don't Miss Out on These Dinner Posts: