Some of the links in this article are "affiliate links", a link with a special tracking code. This means if you click on an affiliate link and purchase the item, we will receive an affiliate commission. The price of the item is the same whether it is an affiliate link or not. Regardless, we only recommend products or services we believe will add value to our readers. By using the affiliate links, you are helping support our Website, and we genuinely appreciate your support.
(This post was last updated on: 3/4/22.) Here is everything you need to make One Week of Crock Pot Dinners for Under $100!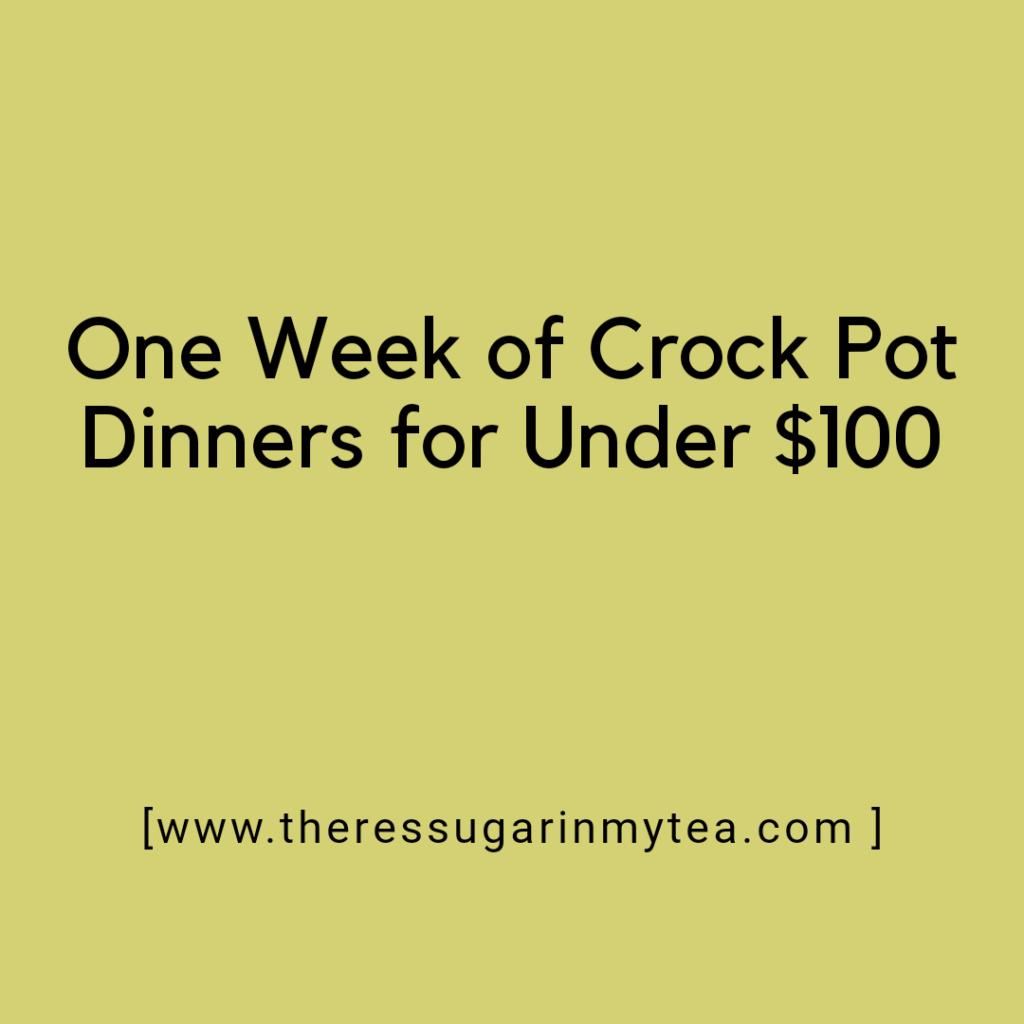 I have been using Walmart's grocery pick up like crazy. This week I set out to see how much it would cost to meal prep one week of dinners for our family. I decided to take it a step further and make all the dinners crock pot meals just to make my life a little easier.
In reality, I do like to keep some freezer meals prepped for nights when I am too busy to cook dinner or am feeling lazy and want something that I can throw in the crock pot before work.
I planned out my menu and added my groceries into Walmart's grocery app. The total came out to $93.62. I didn't think that was too bad for real life meals that we would normally make. I wasn't trying to plan the cheapest week worth of meals by only eating hot dogs and pasta all week. I will outline below my menu, grocery list and recipes so you can easily replicate this One Week of Crock Pot Dinners for Under $100.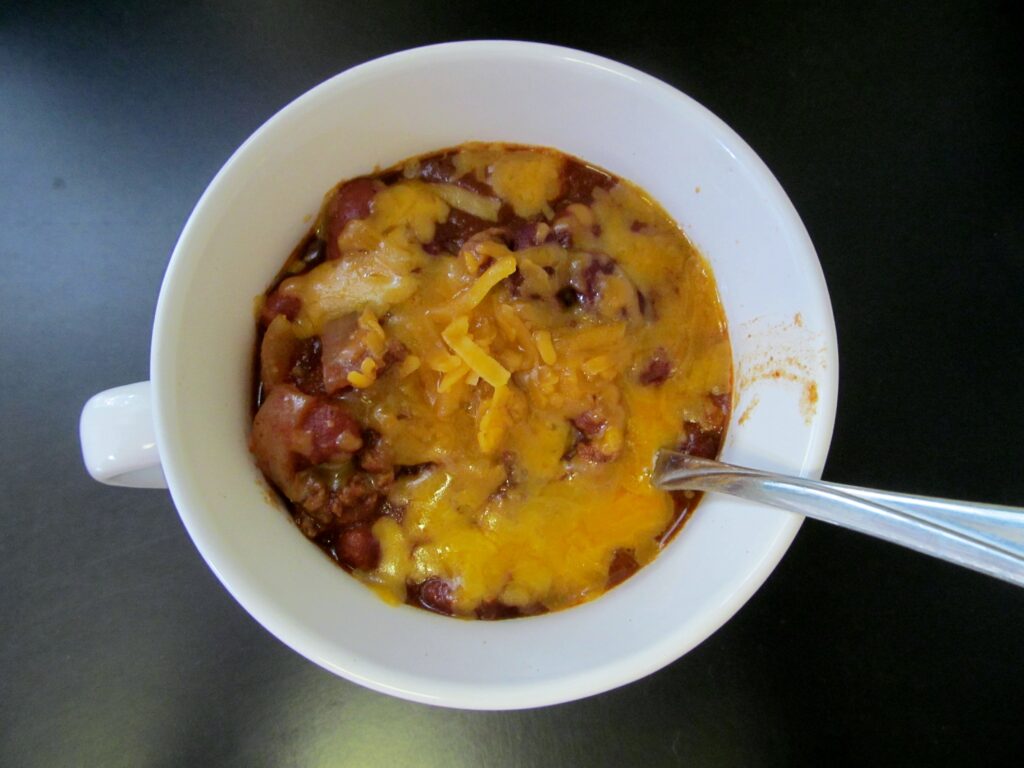 One Week of Crock Pot Dinners for Under $100:
MENU
Monday: Sausage and Peppers
Tuesday: Chili
Wednesday: Beef Stew
Thursday: Spaghetti
Friday: Beef and Chicken Fajitas
Saturday: Mississippi Pot Roast
Sunday: Queso Chicken
GROCERY LIST
Meats: 1 pack of 5 sausage links, 2.5 lb. beef chuck roast, 5 lb. skinless chicken breasts, 2 lb. ground beef, 2 lb. stew beef, 1.5 lb. top sirloin steak
Produce: 1 pack tri colored peppers, 4 white onions, 5 lb. bag russet potatoes, 1 lb. bag baby carrots, 1 bag celery, 1 red onion, 2 red peppers, 1 green pepper
Canned Goods: 1 jar pepperoncini, 1 jar queso, 1 can Rotel, 1 can diced green chiles, 1 can light red kidney beans, 1 can dark red kidney beans, 2 cans tomato sauce, 2 jars pasta sauce
Spices: 1 pack ranch mix, 1 pack onion soup mix, 1 pack chili seasoning, 1 pack beef stew seasoning, 1 pack fajita seasoning
Packaged Items: 1 lb. spaghetti noodles, 20 count flour tortillas
These items were used in the recipes that I did not purchase because they were already in my pantry: salt/ pepper, butter, minced garlic, horseradish, seasoning salt and toppings for fajitas and chili. At the end of my meal prep I had some produce left over that will be used for other meals and snacks.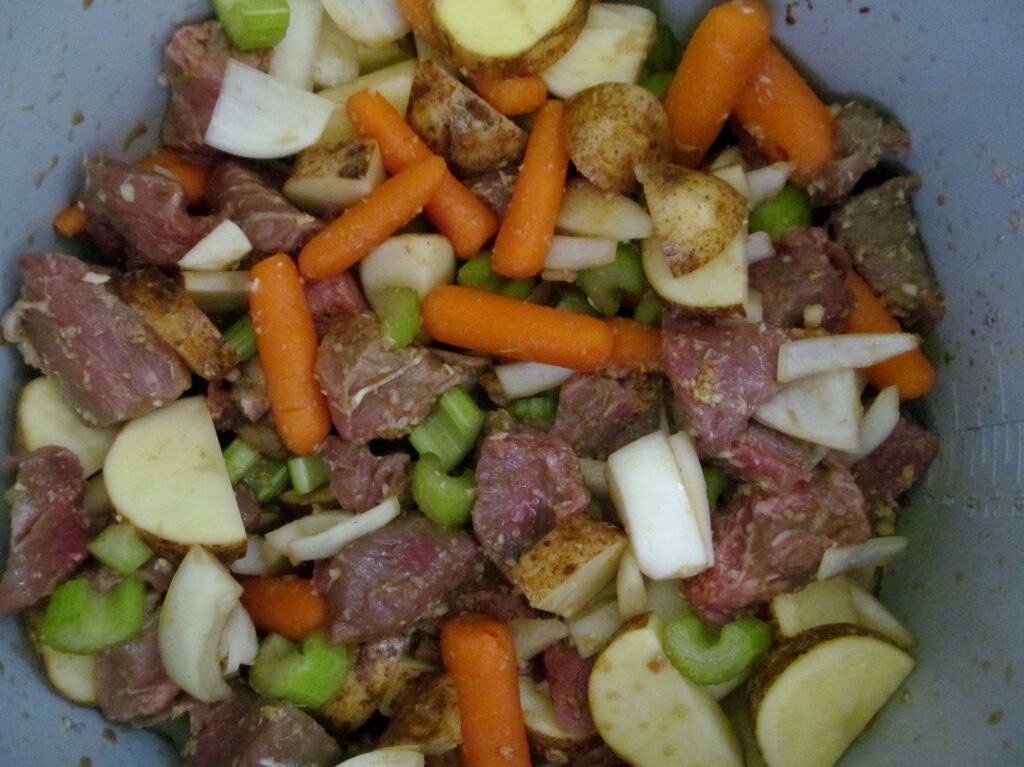 RECIPES
Sausage and Pepper: Place sausage links in crock pot, top with sliced tri colored peppers and 1 white onion. Add about 1/2 cup of water, 1 tablespoon of minced garlic and sprinkle seasoning salt over the top. Cook: Low 8 hours
Chili: Brown 1 lb. ground beef then add to crock pot. Add both cans of tomato sauce and kidney beans as well as chili seasoning pack and 1 diced white onion. Stir. Cook: Low 8 hours. When ready to eat, top with shredded cheddar cheese, hot sauce and crackers.
Beef Stew: Dump ingredients into crock pot: stew beef, 3 sliced celery stalks, 3 diced potatoes, 1 diced white onion, 1 cup baby carrots, 1 tablespoon minced garlic, 2 tablespoons horseradish. Mix stew seasoning with 1.5 cups water and pour over top. Mix. Cook: Low 8 hours.
Spaghetti: Brown 1 lb. ground beef then add to crock pot. Add 2 jars pasta sauce, 1 diced white onion, 1 diced green and red pepper and 1 tablespoon minced garlic. Stir. Cook: Low 8 hours. When ready to eat, cook noodles as directed then top with beef/ sauce mixture.
Beef and Chicken Fajitas: Slice 2 chicken breasts and the sirloin steak then place into crock pot. Top with 1 sliced red onion and 1 red pepper. Sprinkle seasoning on top then stir. Cook: Low 8 hours. Serve with tortillas and toppings such as lettuce, diced tomatoes, salsa, shredded cheddar cheese and sour cream.
Mississippi Pot Roast: Sprinkle both sides of chuck roast with salt and pepper then place into crock pot. Top with onion soup mix and ranch mix. Add 1 stick of butter and 5-8 pepperoncinis. Cook: Low 8 hours. Serve with some of the leftover potatoes: mashed, roasted, baked, etc.
Queso Chicken: Place 4 chicken breasts in crock pot. Top with jar of queso and can of green chiles. Cook: Low 8 hours. Serve with refried beans or rice.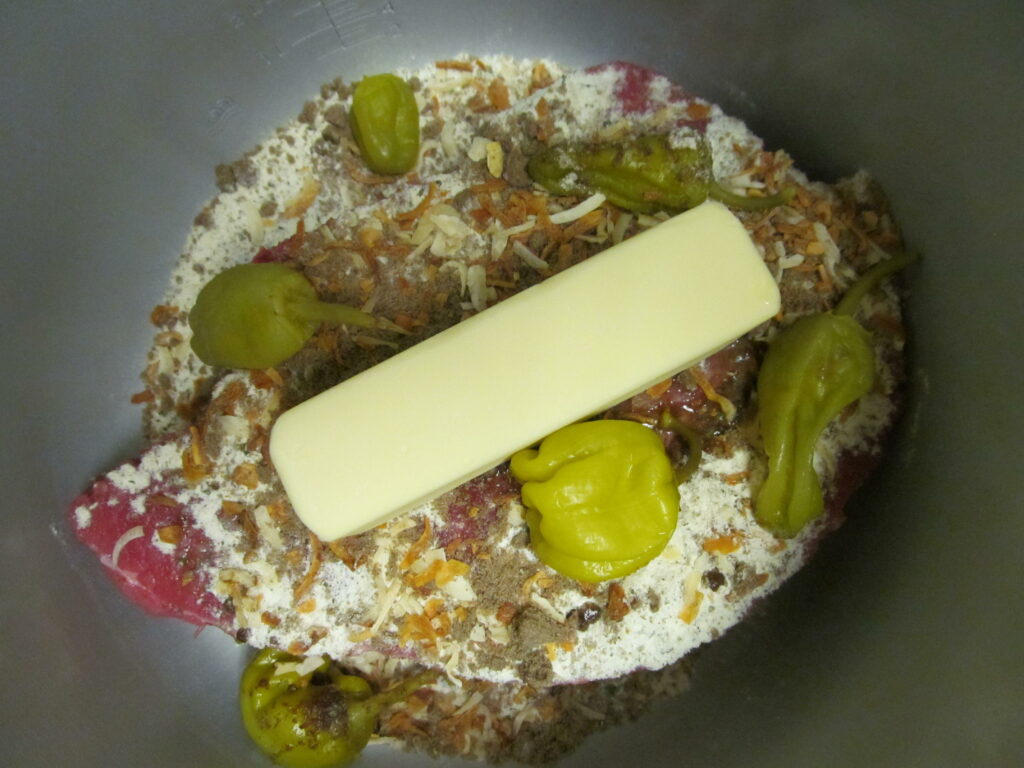 The easiest way to store your crock pot meals if you are prepping them all in one day is to dump all of the ingredients into a gallon sized freezer bag, label the bag then store laying flat in your freezer. I stack a few meal bags on top of a cookie sheet then place it in the freezer so that the bags freeze flat and don't freeze around the wire shelving. You can take one bag out the day or night before you want to use it and then dump everything into your crock pot before you leave for work in the morning.
Another thing I sometimes do is to have a couple crock pots running at the same time, then freeze the meal as mentioned above, but when it comes to the day we will eat that meal, all I have to do it dump it into the crock pot and set the temp to warm. This is good for when you are short on time for whatever reason and you don't want to cook the meal for 8 hours.
What are your favorite crock pot meals? Do you like to prep crock pot freezer meals? Leave a comment below! Don't Miss These Great Posts: