Some of the links in this article are "affiliate links", a link with a special tracking code. This means if you click on an affiliate link and purchase the item, we will receive an affiliate commission. The price of the item is the same whether it is an affiliate link or not. Regardless, we only recommend products or services we believe will add value to our readers. By using the affiliate links, you are helping support our Website, and we genuinely appreciate your support.
(This post was last updated on: 11/17/20.)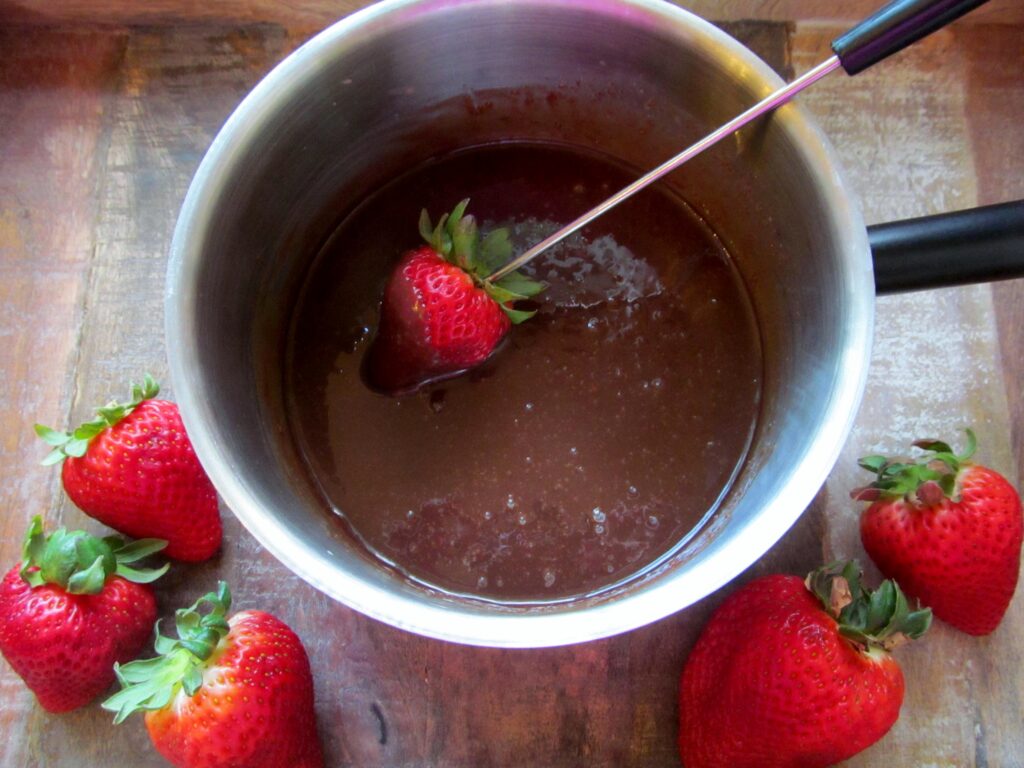 May 15th is National Chocolate Chip Day, so I was thinking about all of the ways to use chocolate chips. One of my favorite desserts is chocolate covered strawberries. So what better way to celebrate chocolate chip day then by enjoying some chocolate fondue. You are about to learn how to make chocolate fondue and just how easy it is to make at home.
When you think about fondue, it seems like a tedious process that you need tons of ingredients for and not something you can do quickly on a weeknight. But that is so wrong. I use this simple recipe when I want to whip up a quick treat.
Chocolate Fondue Ingredients:
1/4 whipping cream
1/2 cup chocolate chips
Dippers: strawberries, bananas, pound cake, pretzels, cookies, etc.
Start by warming a 1/4 cup of whipping cream on the stove on medium heat. When it starts to bubble, take the cream off the burner and stir in 1/2 cup of your favorite chocolate chips until melted. Semi sweet and milk chocolate are my favorites.
Transfer the melted chocolate to your fondue pot. Place a tea light under the pot to keep the chocolate warm and melted. Don't use a Sterno can as this will be too much heat and will end up burning your chocolate.
Cut up lots of goodies to dip in your chocolate such as strawberries, bananas or pound cake. If you are really short on time, you can dip pretzels and mint Oreo cookies. This recipe will make enough chocolate for 2 people. You can easily double the recipe to share with 4-6 people.
Fondue is a fun at home date night. When you are looking for an inexpensive way to have a romantic evening at home with your significant other, fondue will turn up the heat- in more ways than one!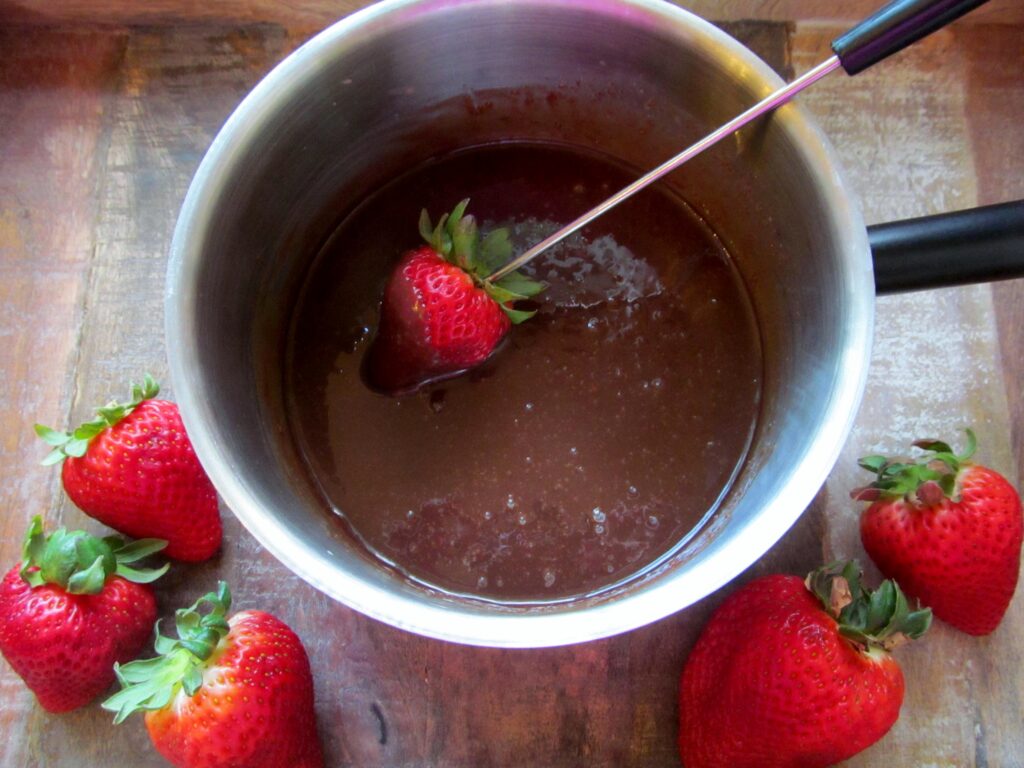 Have you ever made chocolate fondue at home? What do you like to dip into your chocolate? Have you tried making other types of fondue? I have been wanting to try making cheese fondue at home. If you have a great recipe to share, leave it in a comment below. Shop this Post:
Don't Miss These Other Fun Posts: