Some of the links in this article are "affiliate links", a link with a special tracking code. This means if you click on an affiliate link and purchase the item, we will receive an affiliate commission. The price of the item is the same whether it is an affiliate link or not. Regardless, we only recommend products or services we believe will add value to our readers. By using the affiliate links, you are helping support our Website, and we genuinely appreciate your support.
(This post was last updated on: 3/17/22.) 5 Week Plan to Meal Prep: Week 4- Dinner.
We are here to help you plan out how to stock your freezer and fridge with lots of yummy goodness. We will lay out a 5 week program with a weekly focus on either breakfast, lunch, snacks, dinner or dessert. At the end of the 5 weeks, you will have so much food prepped and stored, it will free up time in your busy daily schedule to spend more time with family or doing fun things that you haven't been able to do lately. Here is our 5 Week Plan to Meal Prep: Week 4- Dinner Ideas.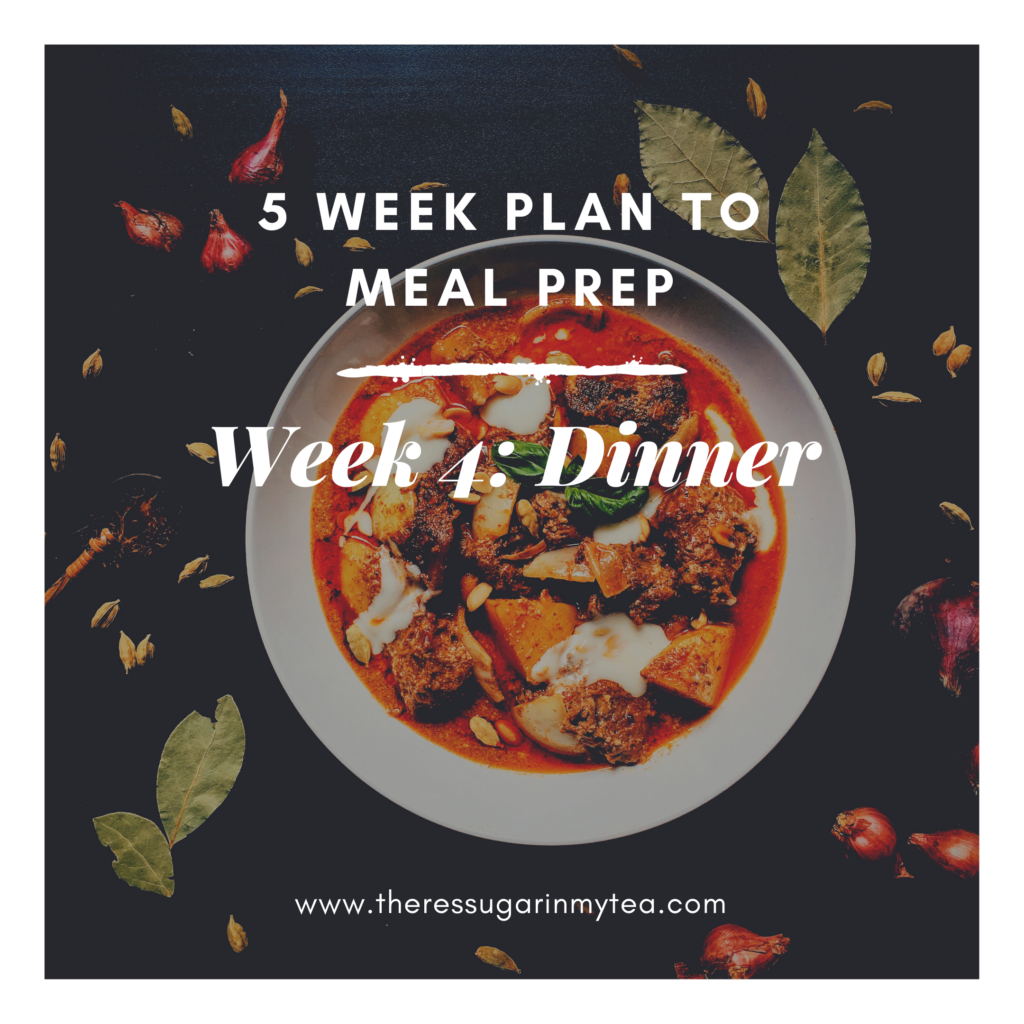 5 Week Plan to Meal Prep: Week 4- Dinner
To me, dinner is the easiest meal to prep in advance. Almost any dinner can be frozen and either prepped for cooking or ready to eat once thawed. The best tip I can give to you if you want to make some dinner freezer meals but do not have an entire day to devote to cooking is to double up on dinner every night for a week or two. You can eat half that night and then freeze the other half for another night. It doesn't seem to take much added effort to double a recipe. And you'll end up with 1-2 weeks worth of dinners in your freezer for later.
Dinner Meal Prep Recipes:
Menu: Beef Enchiladas, Sheet Pan Chicken, Ranch Chicken, Chicken Fajitas and Beef Stew.
Beef Enchiladas:
You can use any recipe that you want, but here is a simple one that I used. Brown 1 pound of ground beef with 1 diced onion. Add 1 packet of taco seasoning. Pour 1 tablespoon of enchilada sauce onto a small flour tortilla then add 2 heaping tablespoons of the ground beef mixture. Top with some shredded Mexican cheese then roll the tortilla and place in your pan.
Repeat the process until your pan is full then pour enchilada sauce over all of the enchiladas. Top with more shredded cheese. You can either bake this at 350 for approx. 20 mins or let it cool unbaked, then wrap it with saran wrap and then tin foil and place in the freezer.
Hack: I keep a few of these disposable tin pans on hand for nights that I want to make a freezer meal in addition to my regular dinner. These are easy to store in the freezer and make clean up so easy.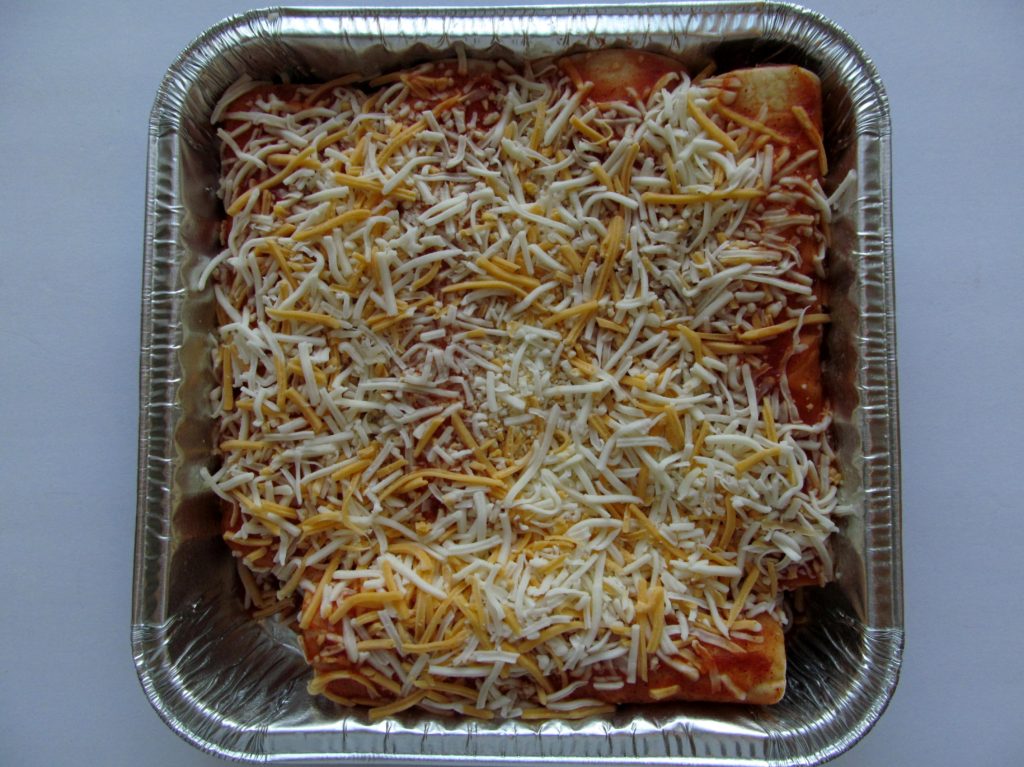 Sheet Pan Chicken:
Sheet pan dinners are so easy to make! Start by chopping up some veggies. This is a good way to use up whatever is in your fridge. I used 1 green pepper, 1 zucchini, 1 onion, 2 cups of broccoli, 1 container of cherry tomatoes and 1 tablespoon of minced garlic. I coated the vegetables with olive oil then sprinkled with season salt.
I then added 1 pack of uncooked chicken tenderloins and again coated with olive oil and sprinkled with more season salt. I like to use this package of chicken (shown below) because the strips are of good quality and cut the perfect size. I dumped all of the ingredients into a gallon sized freezer bag, labeled the bag and placed it in the freezer laying flat. You will bake this on a cookie sheet at 350 for approx. 30 mins.
Hack: To store the most dinners in your freezer, stack your freezer bags flat on top of each other on a cookie sheet until they are frozen, then take away the cookie sheet. This will prevent your bags from getting stuck to your wire shelving in the freezer.
Tip: You can replace the chicken with any protein you like: fish, beef, shrimp, etc.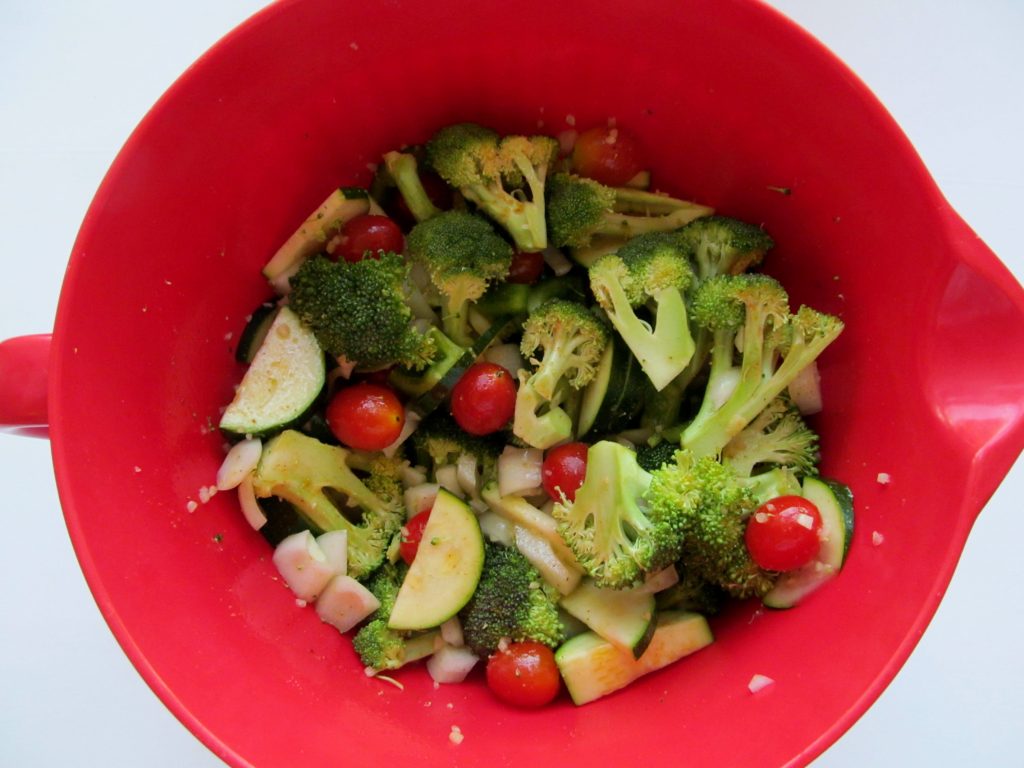 Ranch Chicken:
I labeled a gallon size freezer bag then placed 3 pieces of boneless, skinless chicken inside. I poured in about a 1/2 cup of olive oil and 1 packet of ranch seasoning along with 1 tablespoon of minced garlic.
I placed the bag into the freezer laying flat. When you are ready to use, take chicken out of the freezer to thaw and as it does, the chicken will continue to marinate. The chicken can be baked at 350 for approx. 30 mins., grilled, cooked in an Instapot or Crock Pot, chopped and sauteed on the stove- however you prefer.
Tip: You can substitute any homemade or store bought marinade for this recipe.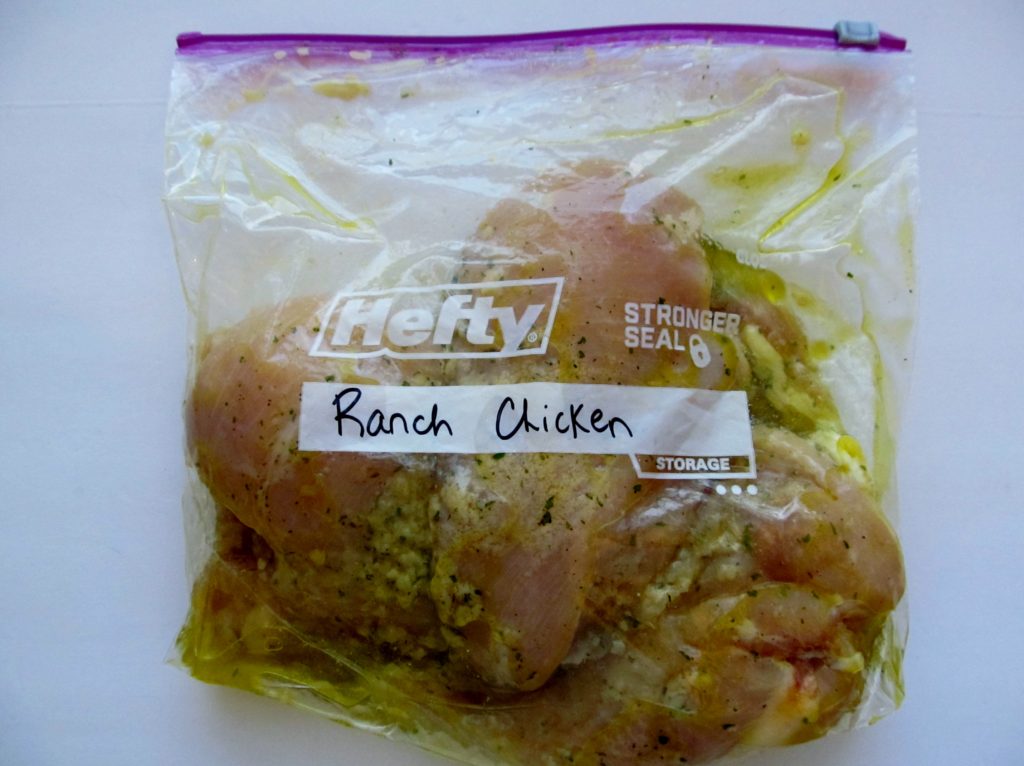 Chicken Fajitas:
I chopped 2 pieces of boneless, skinless chicken and placed it into a labeled gallon sized freezer bag. I then added 1 sliced red, orange and yellow pepper along with 1 diced onion and 2 tablespoons of fajita seasoning. Place bag in the freezer laying flat. Once thawed, this can be baked at 350 for approx. 30 mins. or cooked in your Crock Pot or Instapot.
Tip: Serve with tortillas and toppings such as shredded Mexican cheese, sour cream, lettuce, chopped tomatoes, sliced avocado, salsa and hot sauce.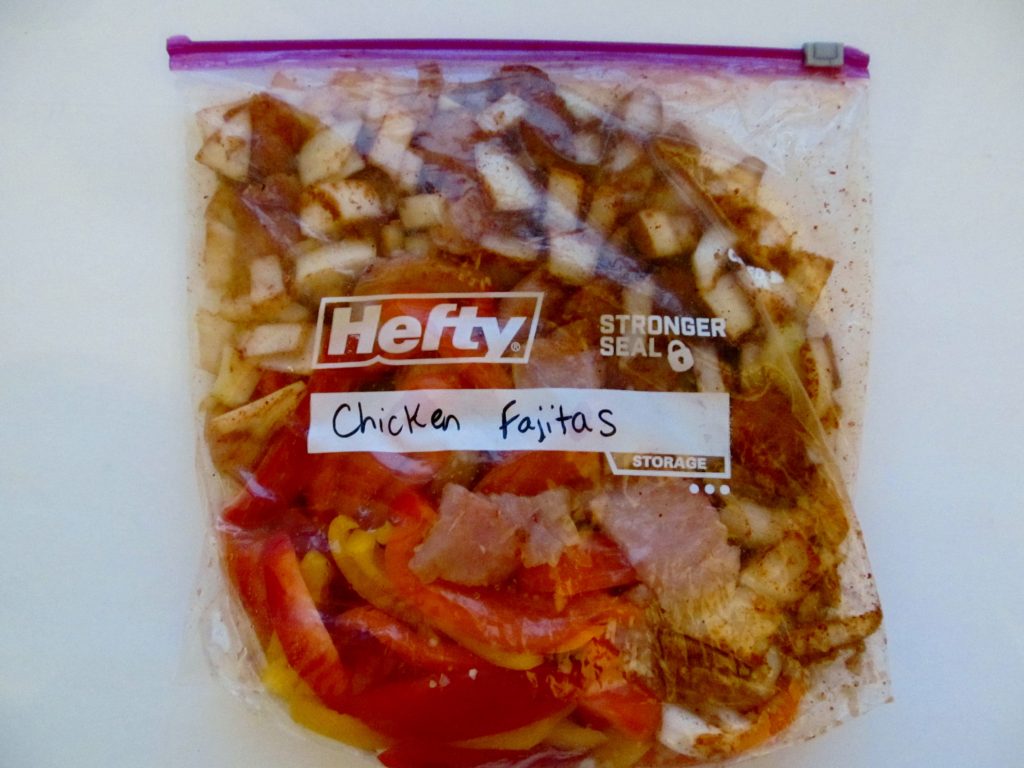 Beef Stew:
Dump ingredients into a labeled gallon sized freezer bag: 2 lbs. stew beef, 3 diced celery stalks, 3 diced potatoes, 1 diced white onion, 1 cup baby carrots, 1 tablespoon minced garlic, 2 tablespoons horseradish and 1 packet of beef stew seasoning. Lay the bag in the freezer laying flat. On the day you want to eat this dinner, place thawed contents of the bag into your Crock Pot and add 1.5 cups water. Mix. Cook: Low 8 hours .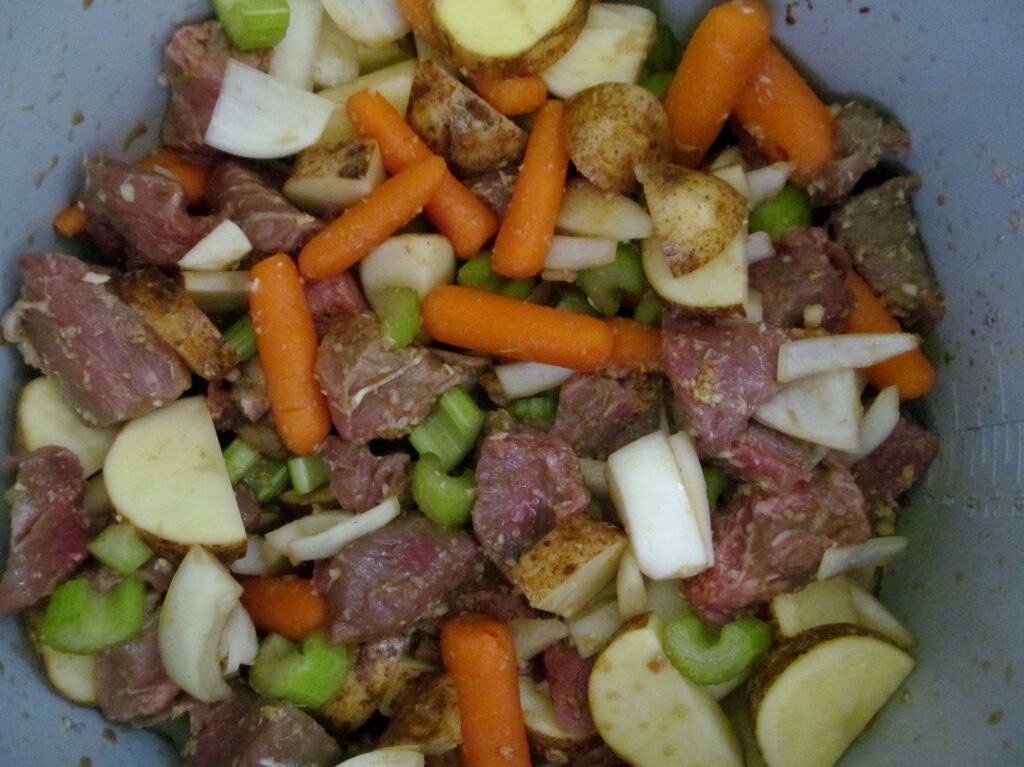 Meal Prep and Freezer Meal Tips:
Prior to filling, label all of your bags and containers with the contents and cooking instructions if needed.
Make sure to use plastic baggies that are labeled as Freezer Bags.
Utilize freezer bags as much as possible instead of Tupperware or other containers to maximize space in the freezer.
Prep a few pounds of browned ground beef with diced onions, and divide in approx. 1 pound servings into separate freezer bags. These are great for nights when you need to get dinner on the table quick. You can use this prepped meat for so many dinners ie. tacos, burritos, enchiladas, taco salad, cheeseburger salad, spaghetti/ pasta, stews, chili, sloppy joes, soups, crock pot and Instapot meals, etc.
Just in case you missed the previous 3 weeks of our 5 Week Meal Prep Plan, you can catch up here:
Please leave a comment below……we would love to hear if you found this post useful and your best meal prepping tips! What type of meals do you like to prep into freezer meals? Do you find meal prepping makes cooking throughout the busy week easier? Don't Miss These Great Meal Prepping Posts: