Some of the links in this article are "affiliate links", a link with a special tracking code. This means if you click on an affiliate link and purchase the item, we will receive an affiliate commission. The price of the item is the same whether it is an affiliate link or not. Regardless, we only recommend products or services we believe will add value to our readers. By using the affiliate links, you are helping support our Website, and we genuinely appreciate your support.
(This post was last updated on: 3/2/22.) Learn how to experience Nashville on a budget!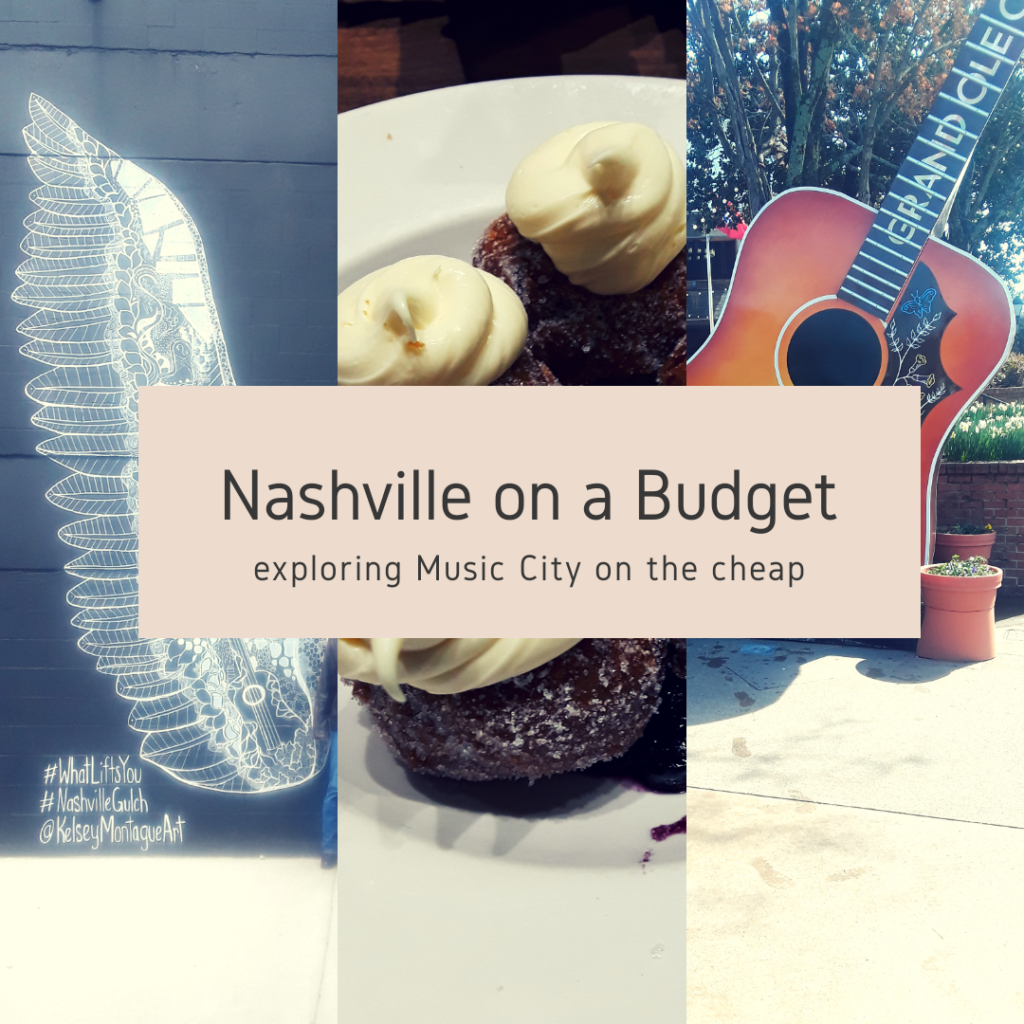 Here's How to Tour + Experience Nashville on a Budget:
Nashville has always been on my bucket list of cities to visit. I was so excited when we mapped out a road trip to visit family with a two day stop over in Nashville. I immediately began researching online what to see and do, where to eat and where to stay in downtown near all of the honky tonks. We didn't have a lot of time to jam pack with tons of sites to see, plus as only part of a larger road trip, we had to keep costs to a minimum. Here's how to experience Nashville on a Budget and still have the best time!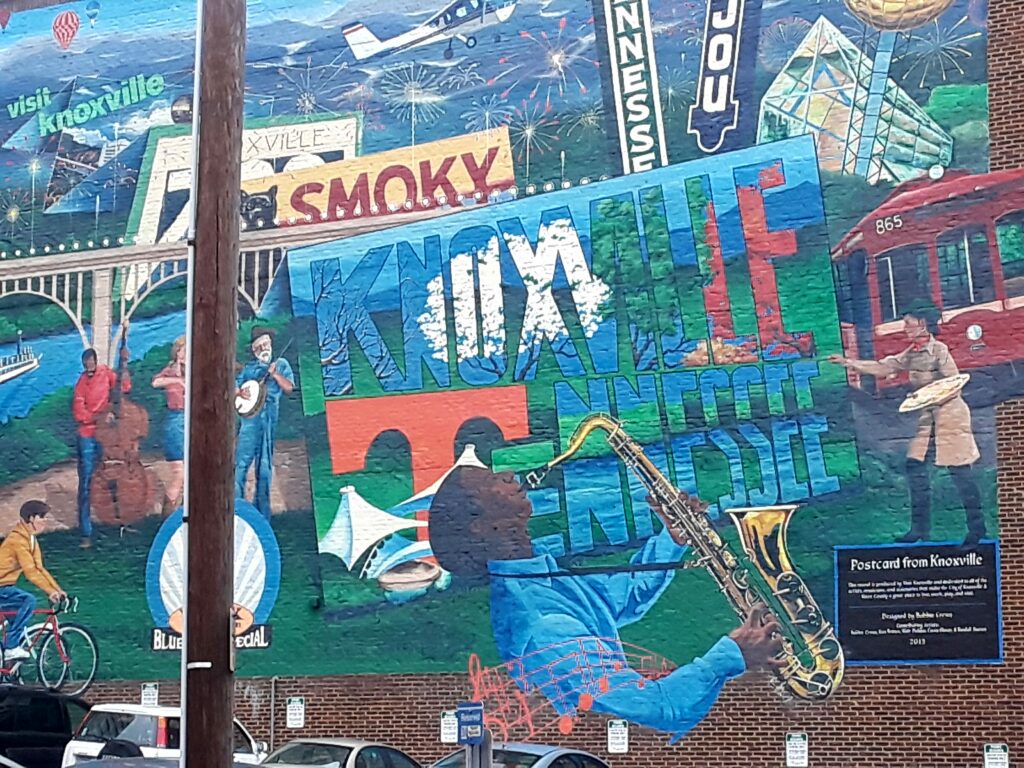 Quick Stop in Knoxville, TN
On day one of our road trip we stopped in Knoxville for a couple hours, just because we were driving right by. We walked around downtown and took a lot of pics giving our best poses next to cool public art installations. Then we headed over to The Sunsphere, a must see when you are in Knoxville. The Sunsphere was built for the 1982 World's Fair and is open to the public for tours. The observation deck gives a view of the entire city.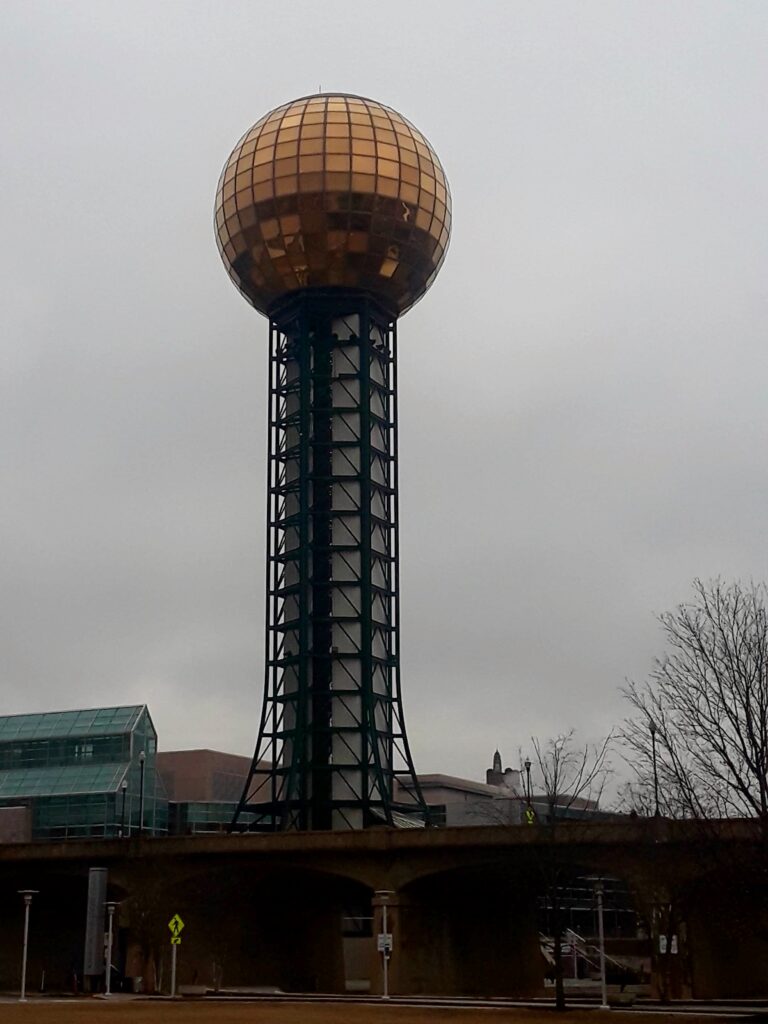 Where to Stay in Nashville, TN
After seeing the major parts of downtown Knoxville, we got back in the car and made our way to Nashville. Our first stop was the Holiday Inn to check in to our room. We chose this hotel because it is affordable and within walking distance to all of the honky tonks downtown. The hotel offers a free shuttle which we used a couple of times because it was cold, but by the time the night ended and we had a couple drinks in us, we just walked back up the hill to the hotel.
What You Need to Know about Nashville's Honky Tonks
When you are walking around downtown, each bar "Honky Tonk" has live musicians all day and night and you can hear their music through a speaker playing out to the street. You literally walk down the street until you hear music you like, that's how we picked which honky tonks to try out.
Most honky tonks have no cover charge, so just walk in, take a seat and leave whenever you are ready to move on to the next location. This was an awesome way to experience something new in Nashville on a budget.
We visited in the spring and never had a problem getting a table. I can imagine in the summer with more tourists, it could be difficult to find a spot to sit. And if you are not a country music fan like my husband, don't worry, the bars offer all kinds of music including bluegrass, classic rock, blues, indie, rockabilly and one night we listened to band playing rap mixed with funk. A few of our favorite honky tonks were Crossroads, Bootlegger's and Tequila Cowboy.
Which Sites to See in Nashville, TN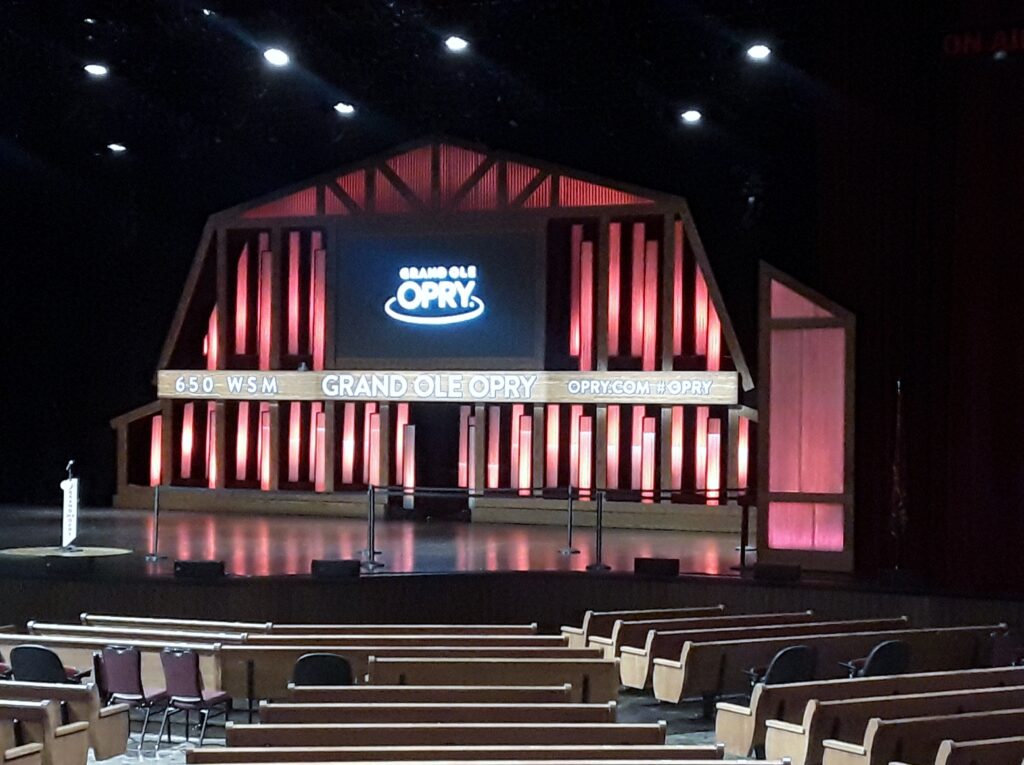 When visiting Nashville, you have to see The Grand Ole Opry. This was the most expensive activity we did in Nashville at $33 per ticket but well worth every penny. That included a backstage tour allowing us to see the dressing rooms, the no frills private entrance, mail boxes for the current Opry members and we even walked out on the main stage.
The venue still offers concerts, just check out their website for upcoming shows. I think it would be amazing to experience a concert at the Opry, but there is no way to convince my husband to sit through a county concert.
Before we got to Nashville, I did my research on all of the must see sites, some were great and some tanked. I read a lot about The Parthenon in Centennial Park which seemed so random and out of place, but hey it was free, so why not? That definitely helped us see more of Nashville on a budget that we set before the trip. It was definitely worth seeing once and we got some great photos.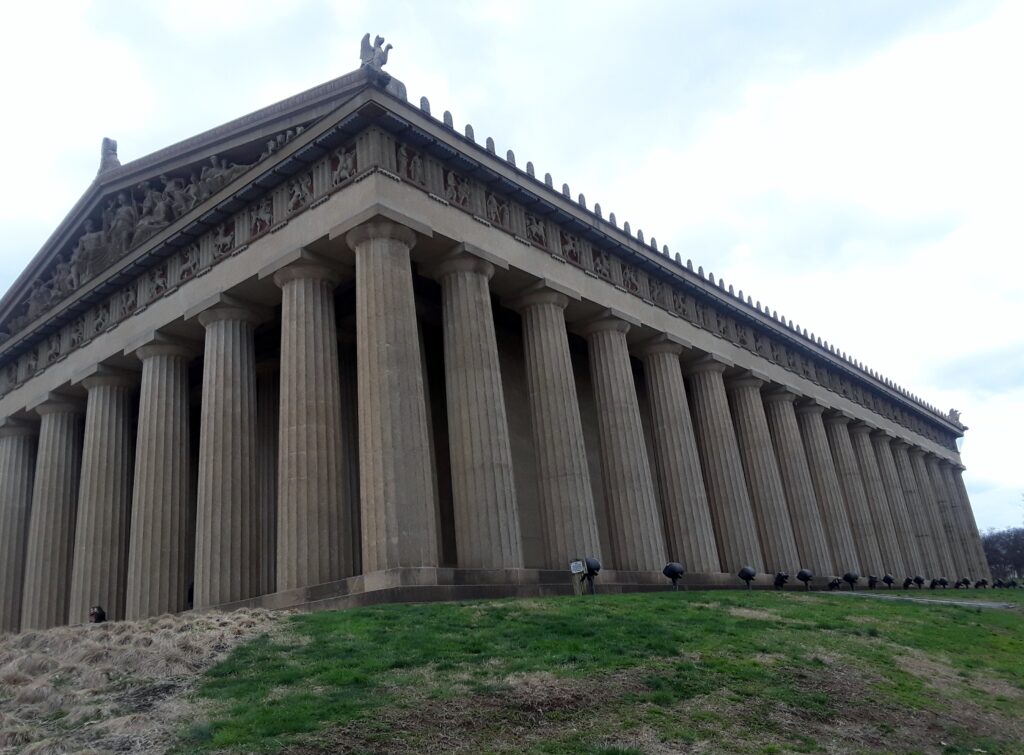 Back in downtown, we explored the city by foot. Another free activity on our to do list was The Walk of Fame. We had fun walking around the small park finding our favorite music legends. This was my favorite budget friendly activity.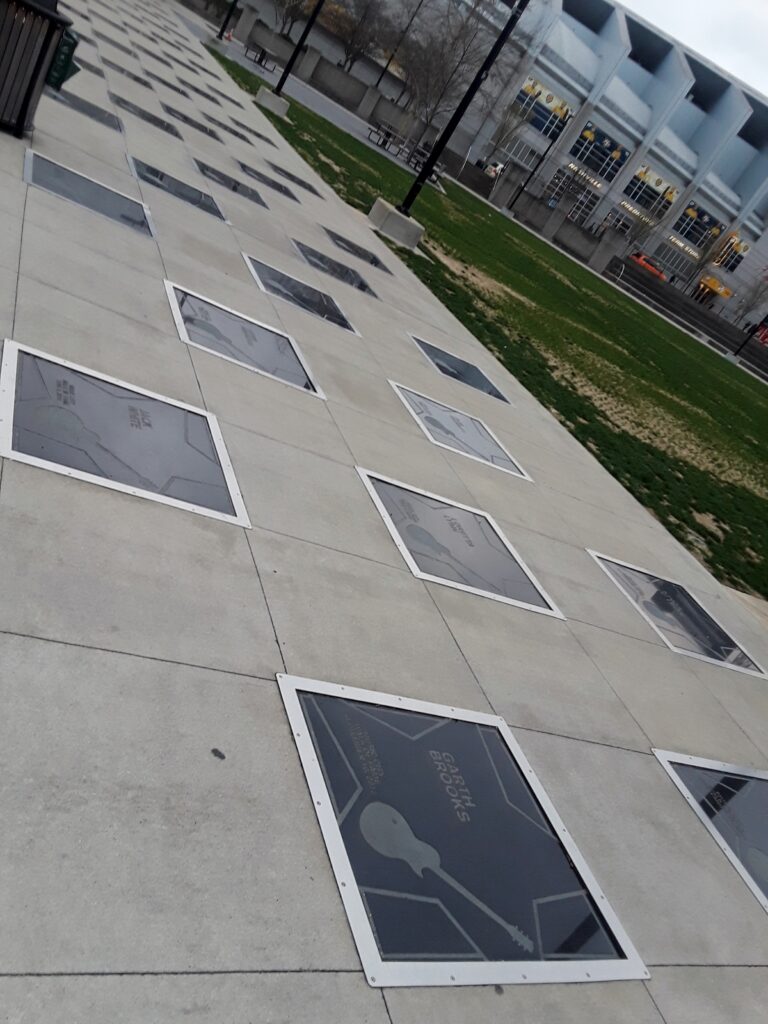 Nashville's best kept secret is it's public art murals that we ran all over town trying to find. There were so many options and each one was unique in design. We took so many selfies and pictures of each other, it was crazy. The murals change and new art is produced all the time so it's hard to keep a running list of current art for you to see on your trip to Nashville, but I did find an app that lists all public art pieces in each neighborhood throughout the city and the app will alert you when you are close to one at: http://www.explorenashvilleart.com.
There is a great mural wall that you have probably seen a million times located at the Draper James store on 12th Ave. South.
Where to Eat in Nashville, TN
Now let's talk about the good southern cooking we had in Nashville. The one thing you have to try is hot chicken. There are tons of places to try this dish. Hattie B's is the most famous and I am sure the best but we weren't willing to wait in line for hours to find out. We looked online and found a dive outside of town and guess what, their hot chicken was amazing. So seriously, don't leave Nashville without trying it, and don't worry about which restaurant to go to, it will be good.
One morning we drove over the The Gulch neighborhood because we had to try brunch at Biscuit Love. And yes, there was a line waiting to get in, but it moved fast. Mostly known for their Bonuts, it is every blogger's recommendation when searching for the best brunch in Nashville.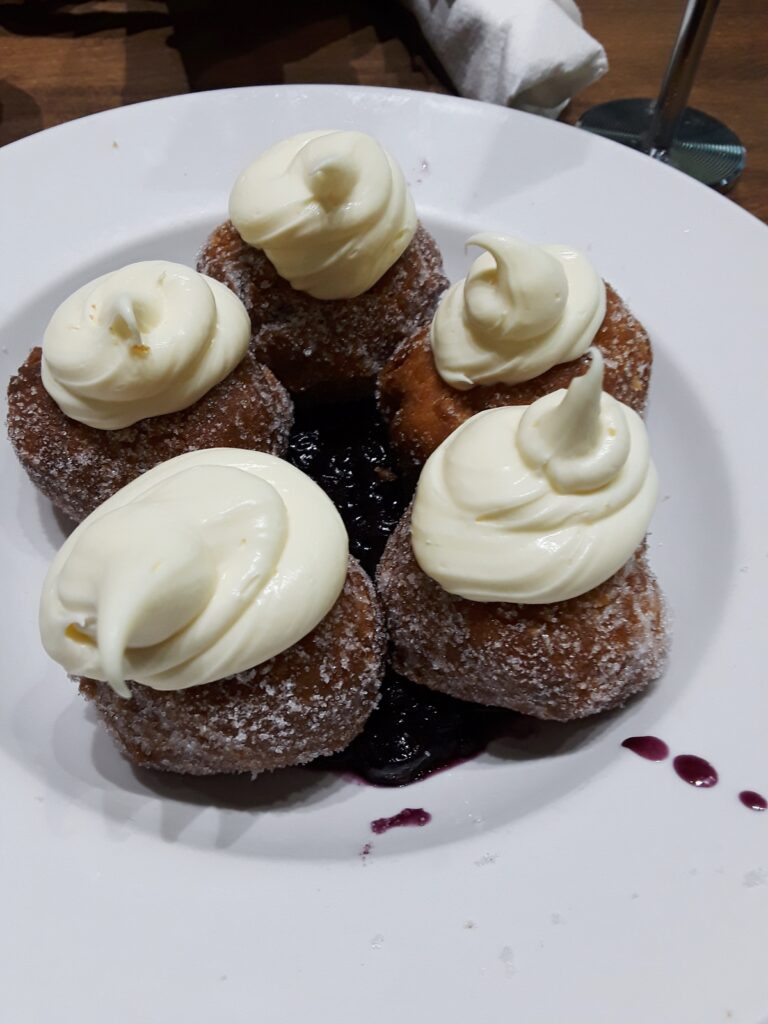 What are your can't miss spots in Nashville, TN? What would you recommend doing if you only had a weekend to explore Nashville on a budget? Let me know in a comment below! I can't wait to go back and explore Music City even more next time! Check Out Our other Travel Guides: