Some of the links in this article are "affiliate links", a link with a special tracking code. This means if you click on an affiliate link and purchase the item, we will receive an affiliate commission. The price of the item is the same whether it is an affiliate link or not. Regardless, we only recommend products or services we believe will add value to our readers. By using the affiliate links, you are helping support our Website, and we genuinely appreciate your support.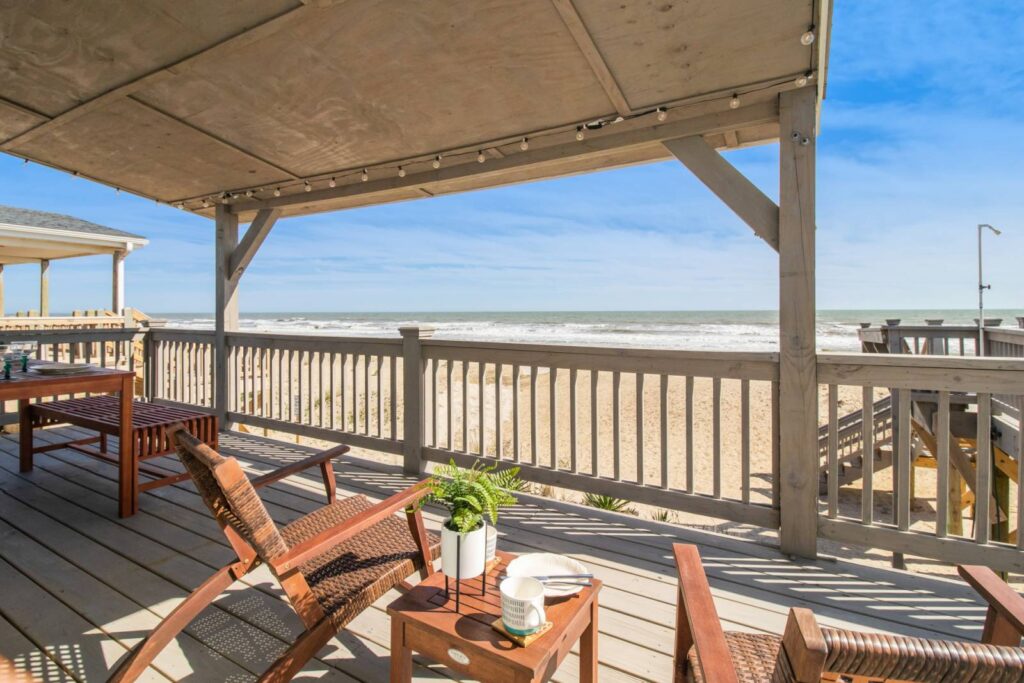 How we bought a beach house is actually quite a long story. Several events over the span of a decade led us to buying our dream beach cottage on Oak Island, North Carolina. I won't bore you with all of the details; but I'll discuss the most important highlights.
How We Bought a Beach House on Oak Island, NC:
We have been vacationing on the beaches of North and South Carolina for years. We would rent a beach front home, in the off season, usually through VRBO or a local rental company. I have actually never rented a property through Airbnb.
We have stayed in several different beach towns, but something about Oak Island just kept drawing us back. It's a small town with not much to do but enjoy the sounds of the waves crashing on the shore. There are a handful of restaurants and stores to acquire the necessities. But there is no rowdy nightlife. The sidewalks definitely roll up by 8pm. And that is just perfect for us. When we vacation, we want to chill out, read a good book with our toes in the sand. We don't stay in huge resorts with 5 pools and 2 lazy rivers, over-crowded with people and kids running wild.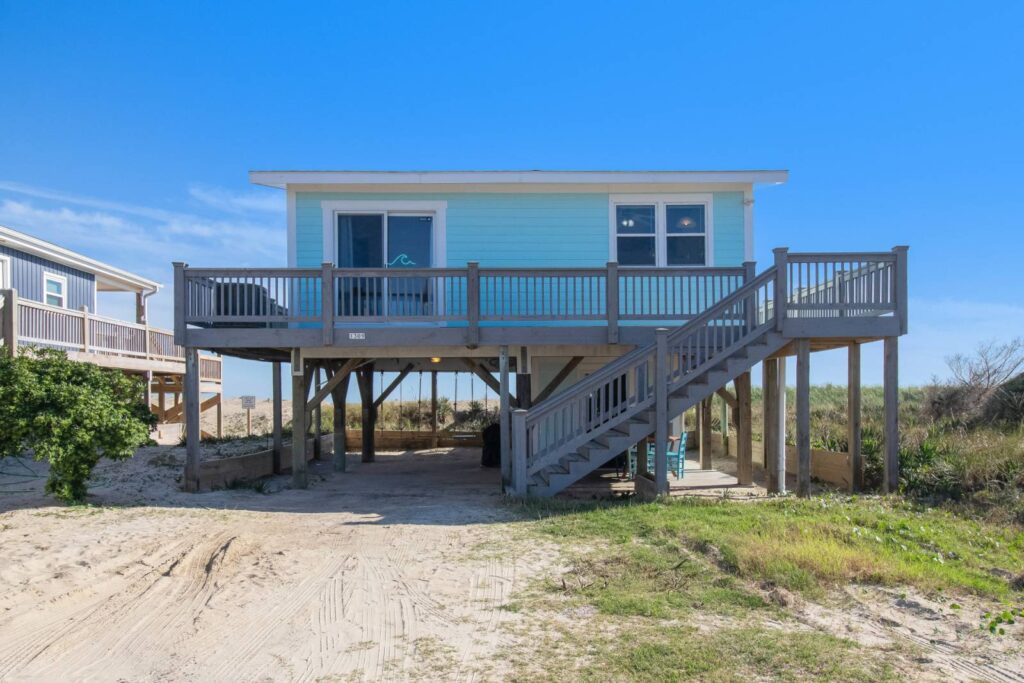 On every single beach trip, when it came time to packing up and heading home, it almost felt like walking the green mile. We wanted to stay and would daydream about owning one of those cool beach houses that we rented. We actually did more than that; we would drive around and gawk at the beautiful homes and even would look online at how much some of the homes were selling for at the time. When we really got full of ourselves, we would even grab a brochure from homes that were for sale or stop by a realtor's office to look at the fliers posted on their office windows.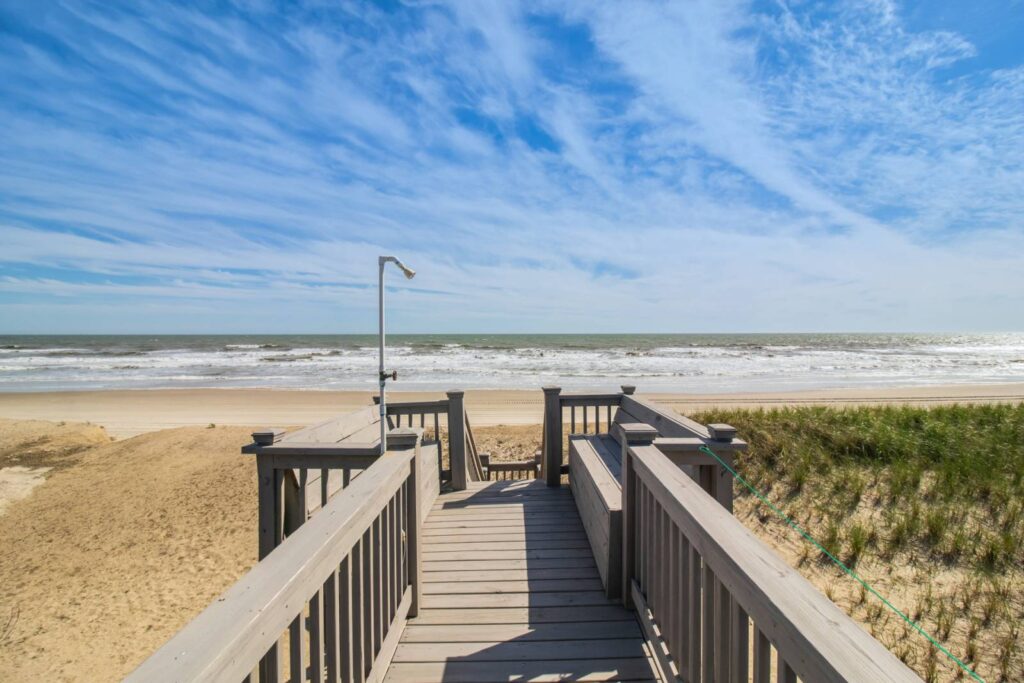 How We Bought a Beach House:
The beginning of our journey to owning a beach house started more than a decade ago when we started investing in long term rental properties near where we live. We started with just one, then we decided to move to the other side of Charlotte right as the market crashed around 2008. Perfect timing! So, we listed our home for sale and after a year and a half we decided enough was enough and to list it for rent and guess what…. a neighbor was about to get foreclosed on and he wanted to rent our home so that his children could stay in the same schools. If you owned, sold or bought a home during 2007-2008, I am sure you remember what a financially terrible time it was for the whole country.
So, we packed up and moved. Our tenant stayed in the home, his children grew up and then the Covid pandemic hit in 2020. Unless you rent or own a rental, you probably don't realize this, but many renters just stopped paying their rent during the pandemic. And the government put a moratorium on evicting these people. Well, our tenant knew this and definitely took advantage of the situation. Fast forward a year or so with my having to pay the mortgage with no rent coming in and finally the government lifted the moratorium, and we began the eviction process.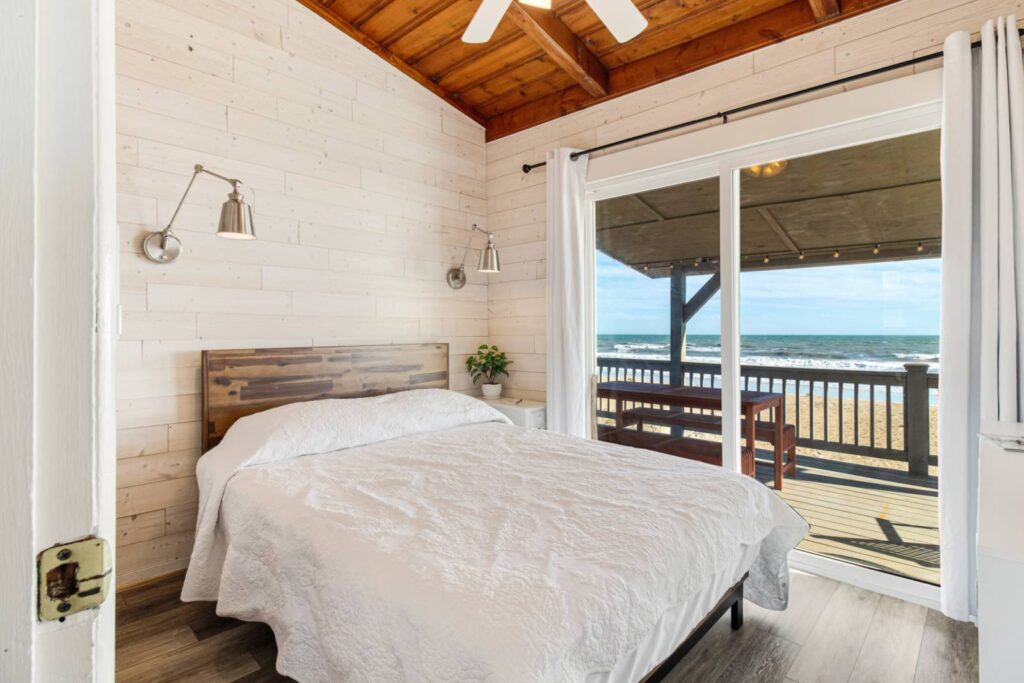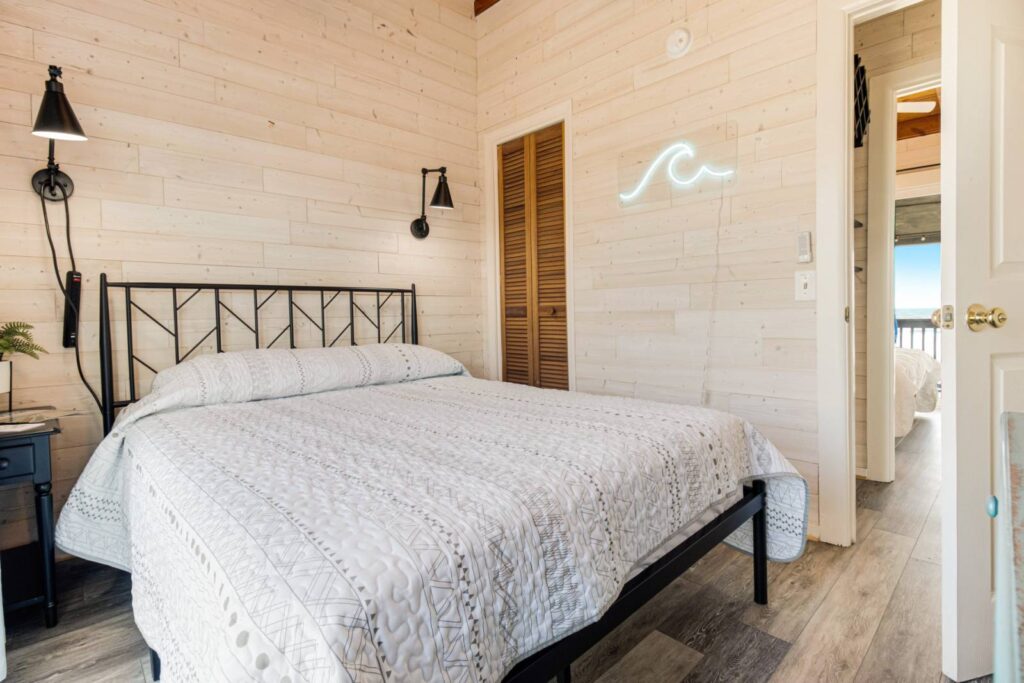 That should have been a somewhat easy process but with the pandemic in full swing, the courts were only working at half capacity, so it took several months just get a court date to kick this free loader out of my house. Finally, the news came, he was outta there and I had my house back. Upon our first visit to the home, we were overwhelmed but not surprised with the condition. Thus began our journey of fixing the place up to sell.
It was difficult to sell due to some of the problems our tenant left behind. I believe from the time we listed it for sale to when we went to closing, it was about 5 months. Normally that is not bad at all. However, this was during the hottest housing market in 2021. Homes at this time were selling for almost double what they were really worth in the matter of a day. As soon as a house went live, it had an offer. So, waiting 5 months and dealing with offers that fell through, was beyond frustrating.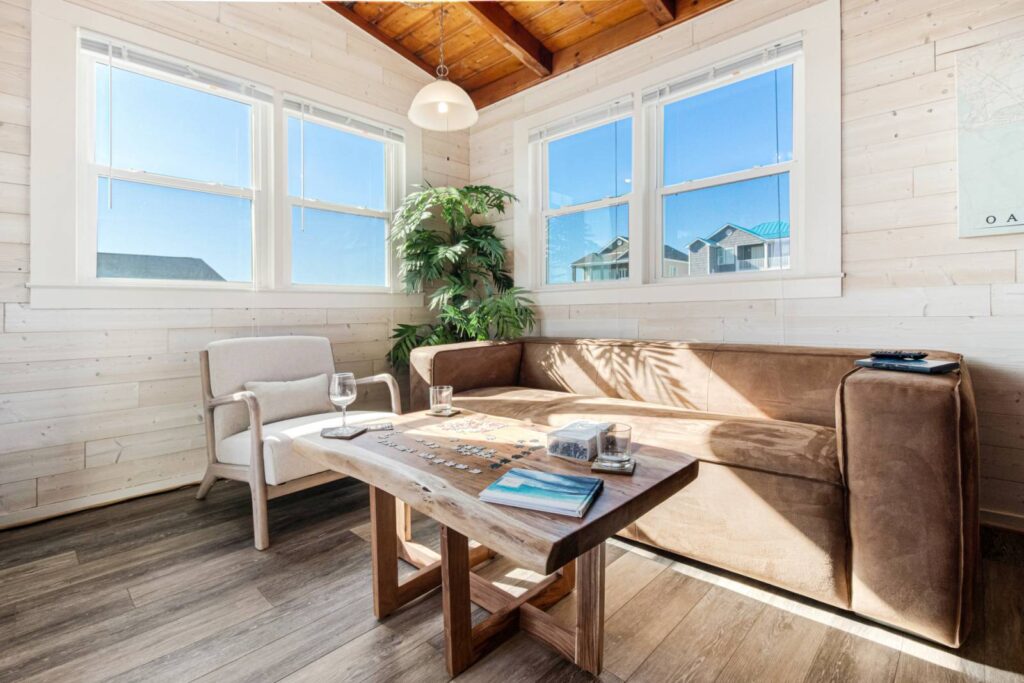 Due to home prices being so overinflated, as soon as we listed the home for sale, we figured it might just be our opportunity to make a profit good enough to purchase a beach rental. We of course would have to find a diamond in the rough, just the perfect deal in order to afford buying a house in the same market we were making a killing selling in- our double-edged sword.
We started searching online nonstop. We found a realtor at the beach and began looking at houses all weekend long every weekend we could get down there. But it was one thing after another. As soon as we found a good deal, we would get out bid or by the time we could make the 3-hour drive down there, the home was already under contract. We started to look at major fixer-uppers but that was just not realistic being that far from home and only being able to work on the house on the weekends. We started to lose hope.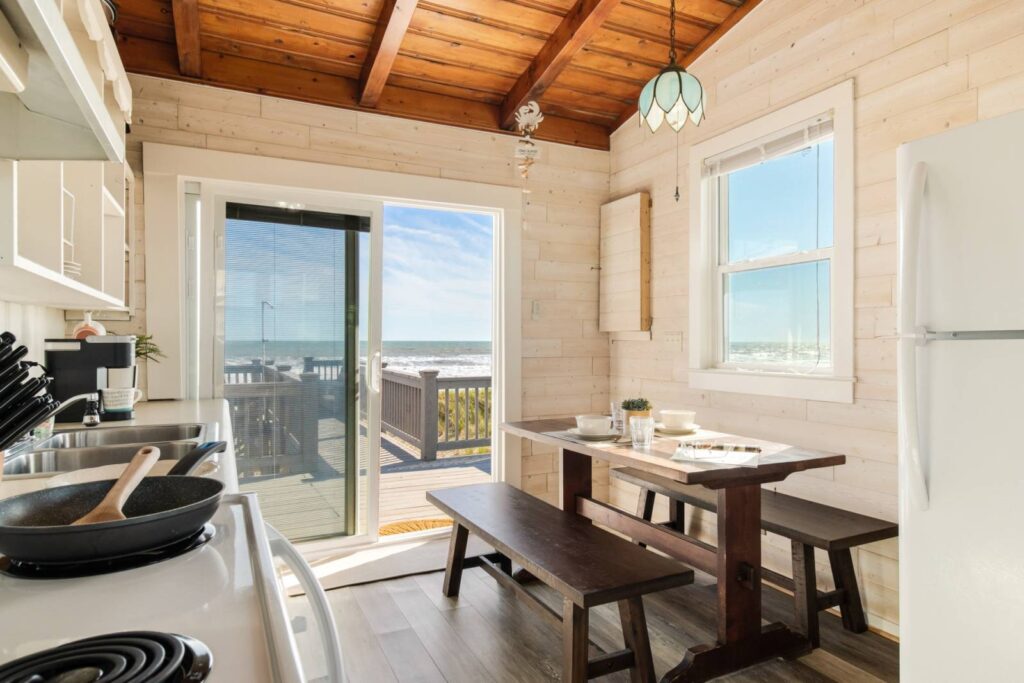 We decided to make one last trip and if our dream happened, it happened, and if not, then not. The night before we were to leave, I decided to look online for any new listings. And there it was! The cutest oceanfront traditional beach cottage…… that was in our price range! I couldn't believe it. There must be something wrong with it, but I called our realtor and said cancel our other showings and meet us at this new listing first thing in the morning.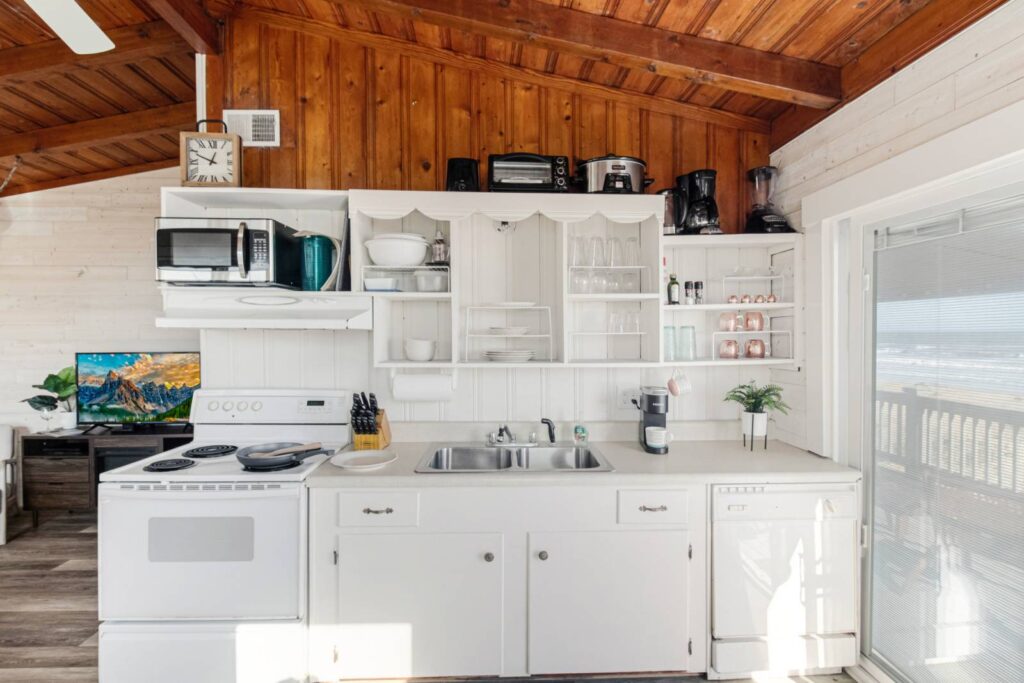 We saw the house and figured out what the issue was with the home. At some point the home was damaged by a storm and the previous owners fixed everything but the bathroom. It would have to get gutted. We looked at each other and told our realtor we are putting in an offer right now! We went to his office, submitted our offer and after several agonizing days, he called to say our offer was picked out of about 7 offers they received in just 2 days of showings. We couldn't have been more excited!
We closed on the other house, then closed on the beach house back-to-back. The timing worked out in our favor. We closed right before Thanksgiving and were able to spend the holiday at our new home. We had no furniture. We slept on an area rug the previous owner left behind, but it was one of the best nights.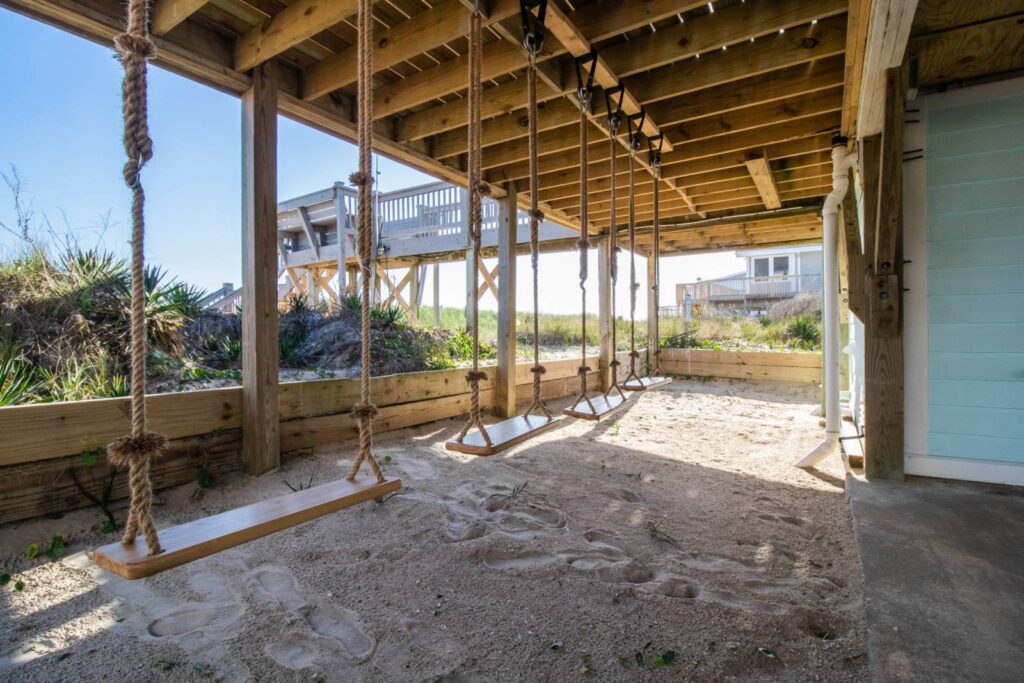 All during the process of looking at beach homes on Oak Island, I did a ton of research on property management, how to Airbnb a listing yourself, the local resources, etc. I was so convinced I was going to do this myself. Soon after buying the home, with the pandemic still going on and most businesses having major staffing shortages, I realized that was not going to happen. I couldn't beg a house cleaning company to take on another house. And I thought, you know what, I don't want guests calling me in the middle of the night with ridiculous problems that I can't fix being 3 hours away. So, we researched and interviewed a brand-new property management company in the area, iTrip, and knew they would be a great fit for us and our beach house.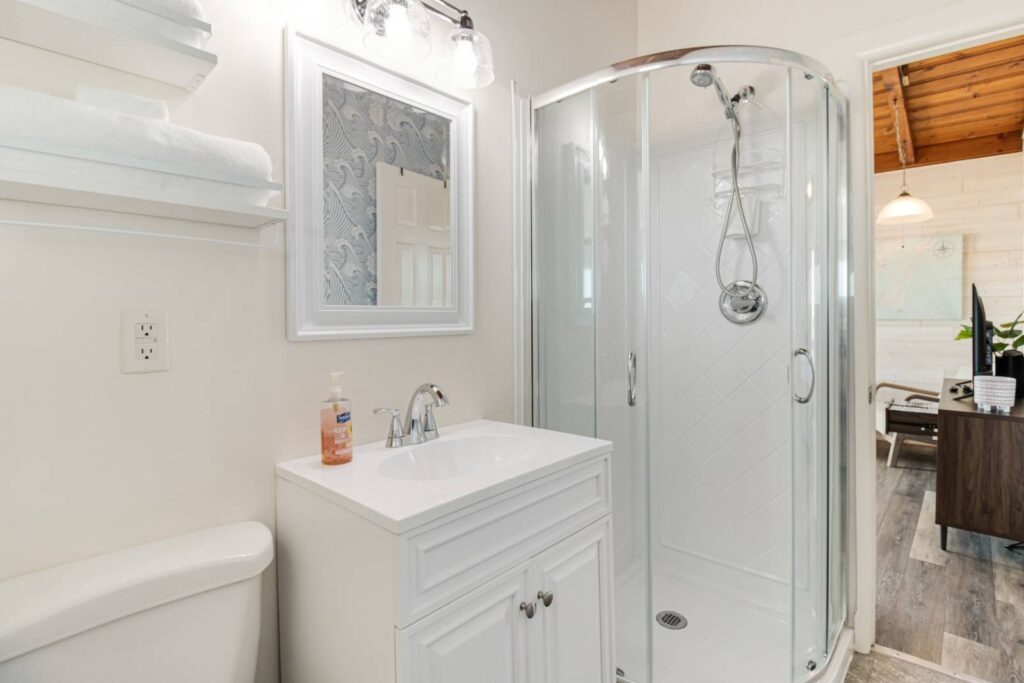 From there it was a few months of fixing up the home, putting together new furnishings and getting things ready for our first guests. Since it began renting in April 2022, it has exceeded our expectations and profit projections. We are so glad we took the leap and realized this goal for ourselves and our family.
At 520 square feet, we ended up naming the home Small Pleasures. I hope you found some inspiration in our story. It was a long and sometimes back breaking road for us, but it shows that if you stick with it, plan ahead and don't mind doing the hard work, you can definitely reach whatever goals you set for yourself.
Are you interested in hearing more about owning rental properties? Do you currently own any vacation rentals? What is your favorite Carolina beach town? Please leave a comment below!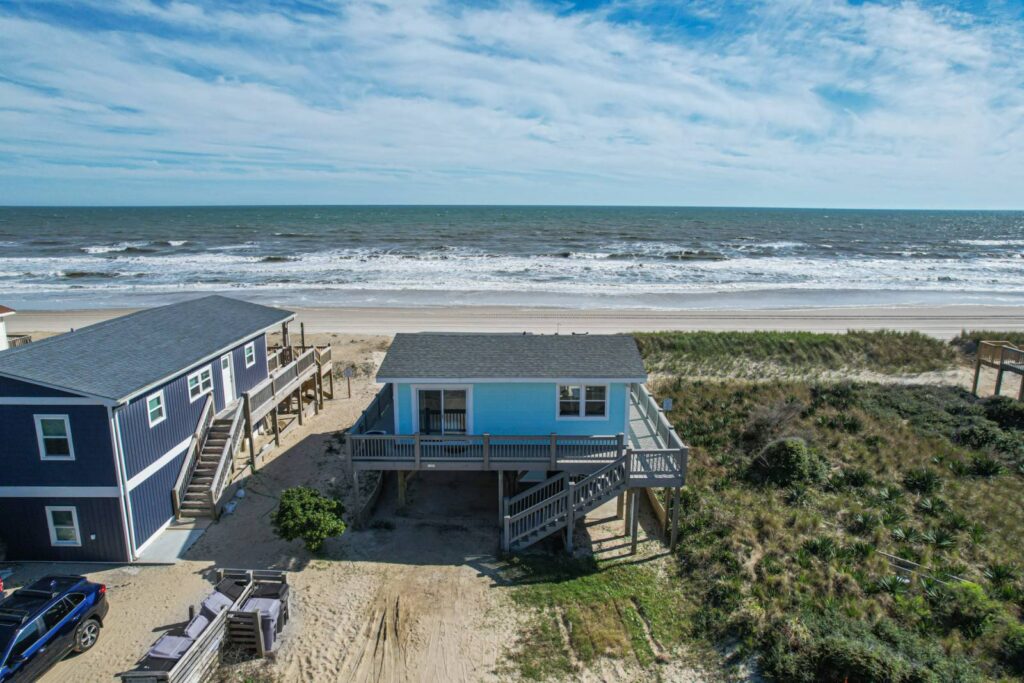 Don't Miss These Posts: