Some of the links in this article are "affiliate links", a link with a special tracking code. This means if you click on an affiliate link and purchase the item, we will receive an affiliate commission. The price of the item is the same whether it is an affiliate link or not. Regardless, we only recommend products or services we believe will add value to our readers. By using the affiliate links, you are helping support our Website, and we genuinely appreciate your support.
This past weekend I made a big batch of roasted vegetables when I was meal prepping for the week. These are great to have on hand as a quick side to your weeknight dinners. I had bought a few veggies that I wanted to use for this recipe but I also had some produce that was almost on its way out, so this was a great way to use those up before they got close to being thrown away. These can be easily reheated in the microwave or eaten cold, whatever your preference. They pair well as a side with most types of meat but you could also use the vegs as a sandwich topper. You could also throw them in a casserole or soup. Really there are so many ways to use roasted veggies, that's what makes them so great to have on hand. Here's a simple way to meal prep roasted vegetables.
Recipe to meal prep roasted vegetables:
For this recipe I used: baby golden potatoes, 1 red onion, fresh broccoli, baby carrots, brussels sprouts, 1 zucchini, 2 red peppers and minced garlic. I sprayed my largest baking sheet with nonstick spray. I sliced and chopped up all of the veggies and put them in a bowl. I coated them with olive oil then seasoned them with season salt. The veggies baked at 400 degrees for approx. 30-45 minutes.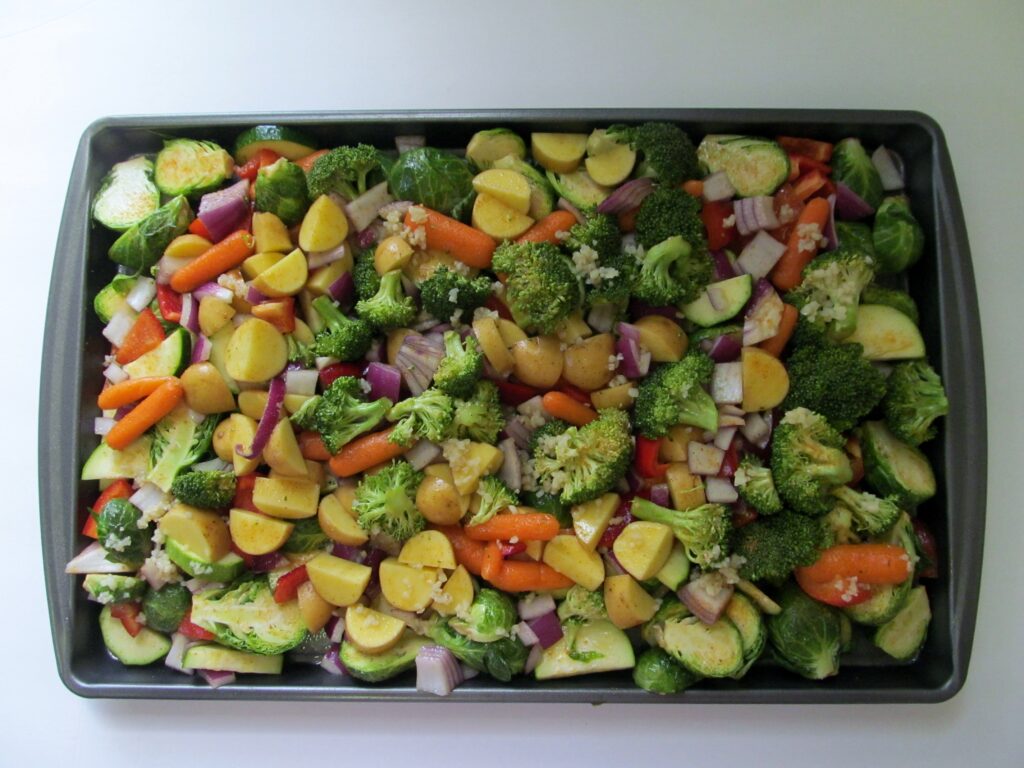 Tell us what quick sides you like to prep for your weeknight dinners; leave a comment below.
You may also enjoy reading:
How to Meal Prep Yogurt Parfaits
The Lazy Girl's Guide to Meal Prepping
How to Make Southern Tomato Salad
How to Make Homemade Pesto Sauce
How to Meal Prep Frozen Breakfast Smoothie Packets Shop this post: