Some of the links in this article are "affiliate links", a link with a special tracking code. This means if you click on an affiliate link and purchase the item, we will receive an affiliate commission. The price of the item is the same whether it is an affiliate link or not. Regardless, we only recommend products or services we believe will add value to our readers. By using the affiliate links, you are helping support our Website, and we genuinely appreciate your support.
(This post was last updated on: 3/4/22.) Learn how to make pimento cheese!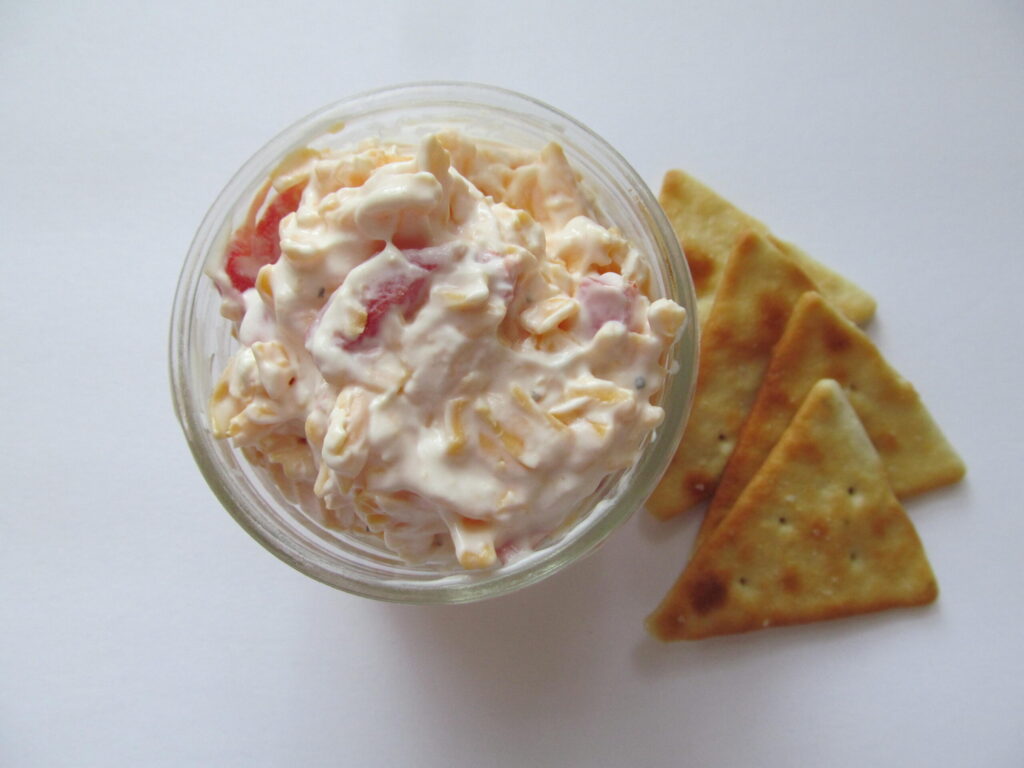 How to Make Pimento Cheese:
I had never heard of let alone tried pimento cheese until we moved to the south. Our friends and family still up north are missing out! This stuff is so good. I have tried so many brands and flavors. I think one of my favorites is made locally here in Charlotte by Queen Charlotte's Pimento Cheese Royale. It's called Black and Bleu Blood made with blue cheese. I found several recipes on how to make pimento cheese and compiled them into this post.
Pimento cheese can be used as a dip served with pretzels, pita chips, crackers or used as a spread on sandwiches and burgers. I love it so much, I even make it at home. This recipe is simple and takes less than ten minutes to whip up. It makes enough to serve at a party or to divide up into several jelly jars to give as a gift.
Ingredients to Make Homemade Pimento Cheese:
16 oz. grated sharp cheddar cheese
8 oz. softened cream cheese
1 1/2 cup sour cream
1/2 cup mayo
4 oz. jar of diced pimentos, don't drain
1/2 tsp. of salt and pepper each
Instructions on How to Make Pimento Cheese at Home:
Mix all ingredients, yeah it is that easy. You can eat it right away or let it chill in the fridge.
What is your favorite brand of pimento cheese? Have you ever tried to make it yourself? If you have a great recipe on making homemade pimento cheese to share, leave a comment below! Shop This Post:
Don't Miss Out on These Blog Posts: