Some of the links in this article are "affiliate links", a link with a special tracking code. This means if you click on an affiliate link and purchase the item, we will receive an affiliate commission. The price of the item is the same whether it is an affiliate link or not. Regardless, we only recommend products or services we believe will add value to our readers. By using the affiliate links, you are helping support our Website, and we genuinely appreciate your support.
Looking for something new to binge watch this weekend? We have 10 new Netflix recommendations that you are going to love. These are the best tv shows and movies to binge watch on Netflix right now.
10 New Netflix Recommendations:
1. The Harder They Fall
My husband and I just watched this movie last night and I thought it was great. The Nat Love Gang infuses current times with the old west. An action packed movie full of big stars and newbies was just the right mix. I don't want to spoil the ending, but I see a sequel on the horizon and I can't wait!
2. You Season 3
We are big fans of the book and show You. We just got around to starting Season 3 and are about 3-4 episodes in right now and it's not disappointing. The action and twists keep on coming for this murderous couple navigating life with a newborn in the burbs. Someone can't seem to stop killing, but I won't tell you who.
3. Squid Game
So this is the Netflix show that everyone is talking about right now. It's reminiscent of Hunger Games. So if you were a fan of that movie, you will love this show. I don't think the gore is as bad as many others say, but I don't think I would let kids watch this one. At times the dubbing and facial expressions are distracting, but overall this is definitely worth watching. Again, the end of the season allows for a second season in the making and I will definitely put it on my watch list.
4. Night Teeth
I love vampire movies. This is a bit for younger audiences, but that's ok. I thought it was at least something a little bit different to watch. You know, not the same old boring story line over and over again. I did love seeing the characters I liked win and the characters that I didn't like lose. In the end it's a love story with a vampire twist that might be best to watch with the girls. Not classified as a full on chick flick, but pretty darn close.
5. Sweet Girl
I hate to say it since Jason Momoa is my hall pass, but this movie sucked. Don't waste your time watching it. Period.
6. My Unorthodox Life
I never heard of Julia Haart before binge watching this show. I was seriously just looking for some trashy reality tv to zone out one day. She seems totally crazy but I am so intrigued by her story. She left an orthodox Jewish community in New York that pretty much sounds like a cult to build a new life which led her to become the CEO of Elite World- modeling agency. Season one introduces the viewer to the Haart clan and shows how each of her family members (at different levels of being deprogrammed) navigate the "outside world". It's actually pretty interesting. So much so, that I pre-ordered her book on Amazon. I love a good story about escaping a cult!
7. Love Hard
Warning: This is a total chick flick! But I loved it anyways. It's a rom-com about a dating disaster columnist that gets catfished on a dating app. It's a sweet story about insecurities and how to navigate the online dating world in today's modern times. It also doubles as a Christmas movie. So grab a cozy blanket and some popcorn, you will love this one.
8. Tiger King Season 2
Whaaaaat????? Yes please! I. Can't. Wait. Premiers November 17th- set yourself a reminder now.
9. The Guilty
I know there is a lot of hype around this movie. And I have always loved Jake Gyllenhaal, but sorry, I thought it was super lame. I wouldn't recommend watching this one. I felt like I kept waiting for an awesome twist in the story and it just never happened. The whole movie takes place in a 911 call center and the victims call Jake for help. The callers sounds super freaky, so I thought there would be some unforeseen plot twists, but there just weren't. Lame!
10. Maid
I have saved the best for last! Several people told me to watch this Netflix show, but honestly I thought the trailer looked boring. Then one day I got bored enough to start watching and oh my gosh, I LOVED this show. It's the story of a young mother leaving an abusive relationship. She has to do whatever it takes to provide for her daughter. The story takes lots of twists and turns. She has to take work as a maid and deal with the variety of clients and homes that we all would hate. She has a mentally ill mother, an abusive father and her friends have all bailed. She winds up in a shelter, dealing with the realities of getting public assistance and has to shrug off the stigma of being in an abusive relationship. This show is seriously the best available right now to stream.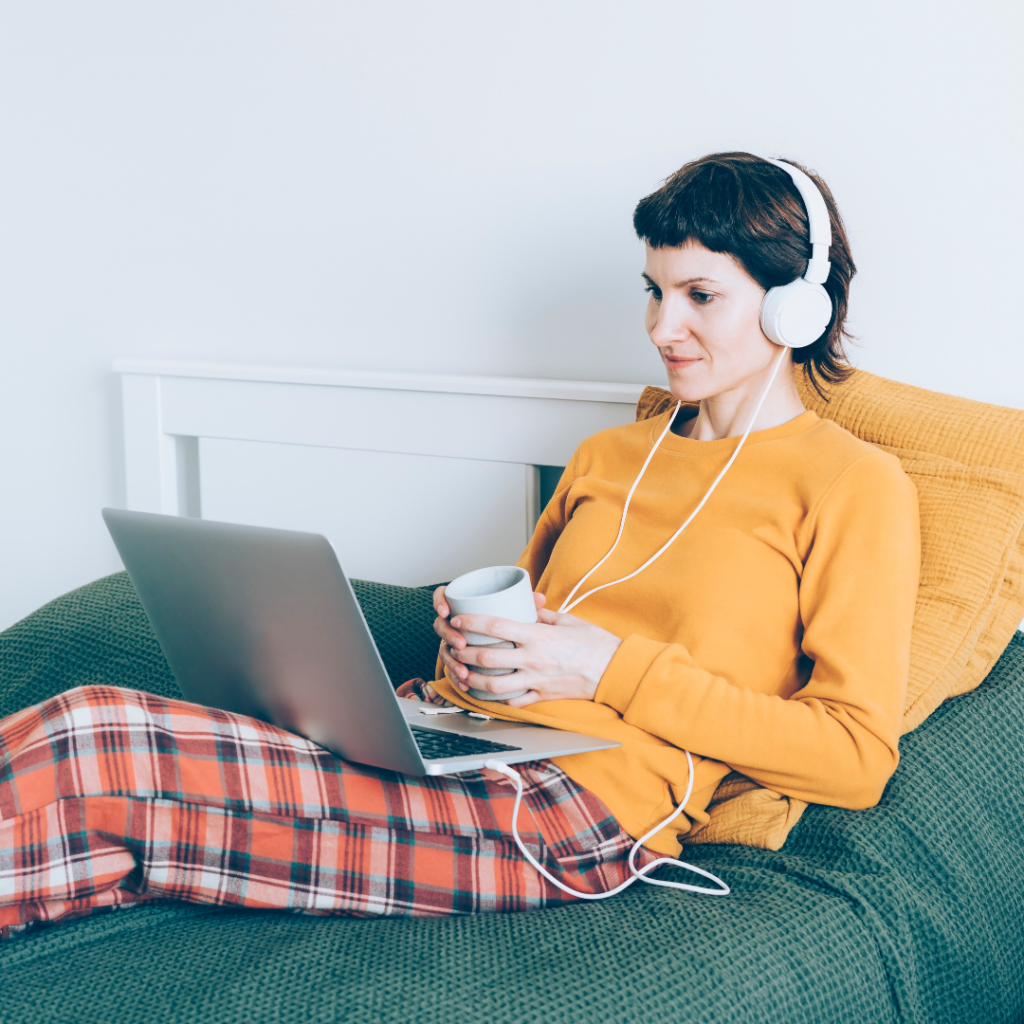 10 New Netflix Recommendations to Binge Watch!
Let me know…. what have you been watching lately? Have any good recs? Have you watched any of the shows or movies on our list? Leave a comment below. We would love to hear what you think about this list of Netflix recommendations. Don't Miss These Great Posts: