Some of the links in this article are "affiliate links", a link with a special tracking code. This means if you click on an affiliate link and purchase the item, we will receive an affiliate commission. The price of the item is the same whether it is an affiliate link or not. Regardless, we only recommend products or services we believe will add value to our readers. By using the affiliate links, you are helping support our Website, and we genuinely appreciate your support.
(This post was last updated on: 1/27/21.) Learn how to organize your handbags and purses and how to make money by selling your purged handbags at Clothes Mentor.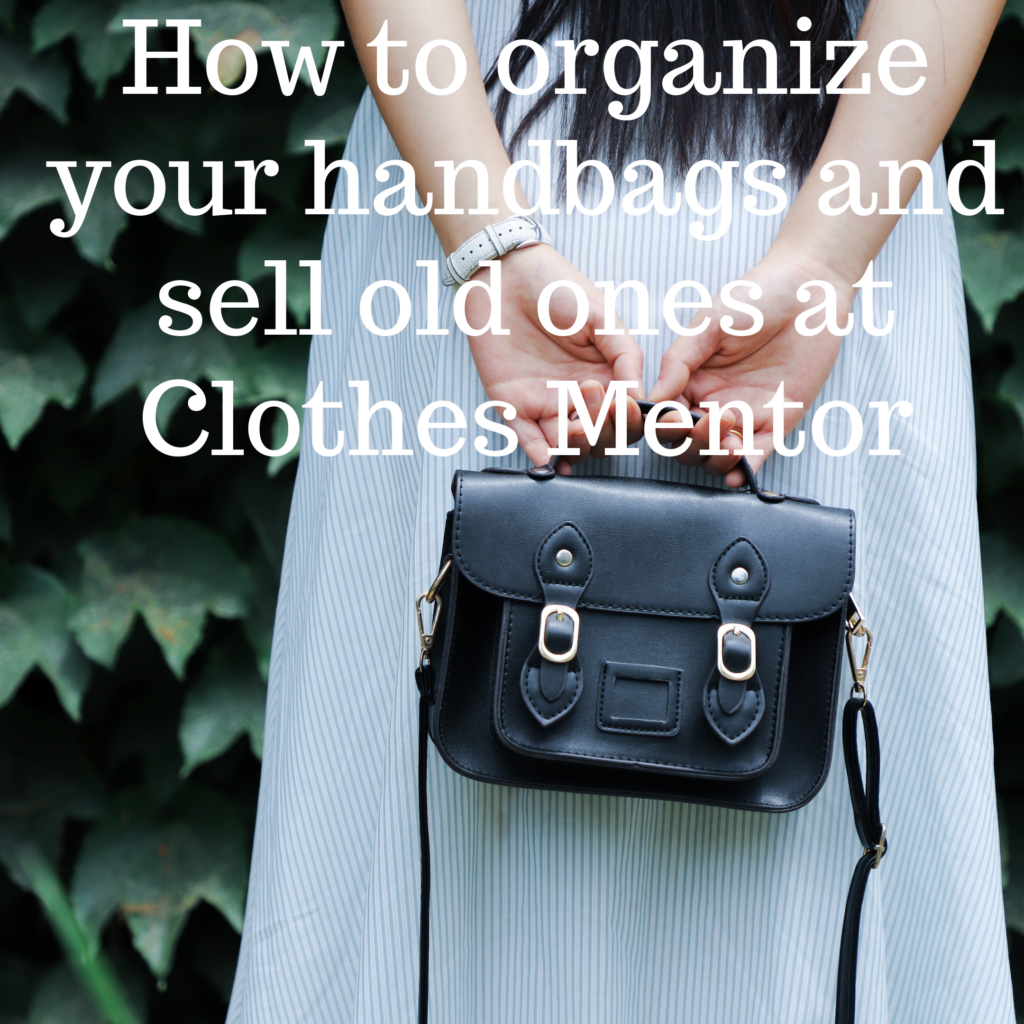 As part of my closet clean out project, I sorted through my handbag collection. I hate to say, but I had a lot. Maybe it would even be considered out of hand at this point. So I dug them all out of the storage cabinet where they were hiding and laid them all out to be sorted.
I set aside about 10 bags that I have not used in a very long time that I either no longer liked, they were in need of repair or are no longer in style- not even close. I wasn't sure what to do with them all. Some are designer bags, mainly Coach, but some were lesser name brands.
My Experience at Clothes Mentor
I decided to find ways to sell the handbags that I no longer wanted. First, I took a picture and sent a text to some friends to see if anyone would be interested in buying them. I didn't get any takers. So next I took them all to Clothes Mentor in the Arboretum Shopping Center in Charlotte. That was an interesting experience. It was also my first time ever trying to consign anything.
The process was pretty easy. I dropped my bag of purses at the checkout counter. They had a bunch of items to sort through and said it would take about an hour. So I went next door to Michael's to kill some time. The store sent me a text about 45 minutes later saying my items were ready.
When I returned to Clothes Mentor, they had set aside 4 handbags in a laundry basket and told me those were the ones they wanted to buy. They said the other bags I brought in were not able to be purchased due to wear and style. They offered me $25 for all four handbags. Mind you, two were Coach and two were lesser name brands.
I pulled the nicer Coach bag out of the basket and said that I would keep that one for myself. The price dropped down to $16. So I thought about it for a minute, then said ok. I mean what else am I going to do with them?? I don't want to spend the time trying to sell them on Facebook Marketplace or Ebay. At this point they aren't worth enough money to make the time I would spend on selling them online worth my effort.
What I did find interesting about my experience at Clothes Mentor is that they purchased handbags from me that I didn't think were the top picks. I thought they turned down some of the nicer items I had brought in.
On the way out, they did give me a list of items that they are currently looking for this season which includes: ankle boots, athletic jackets, athletic pants and tops, blazers, cardigans, coats, designer handbags, designer jeans and shoes, fragrances, jackets, jeans, knee boots, long sleeved tops, shawls, sweaters, vests and watches. They sell clothing in sizes 0-26, petites and maternity. Kind of made me think that I should have picked out some of the nicer clothes that I cleaned out of my closet and took them there before giving them away to friends. Oh well, I will know for next time.
Overall, my experience at Clothes Mentor was good. I thought I would make a little bit more money than what I did, but I guess if you are really in need of either getting rid of stuff or making some extra cash, this is a good way to go about doing that. The fact that I spent $35 at Michael's while waiting for the store to decide which of my purses to buy I am now technically in the hole $19 is not lost on me.
How to Organize Your Handbags
So now what to do with all of the handbags that I decided to keep? I didn't want to return them to the storage cabinet that they were in before. Some got misshapen that way and one even had mold on it. I wanted to figure out a way to have them displayed so that they would keep their shape, stay in good condition and that I could see what I have. I think if I could see my collection, I would be more likely to use each one more often.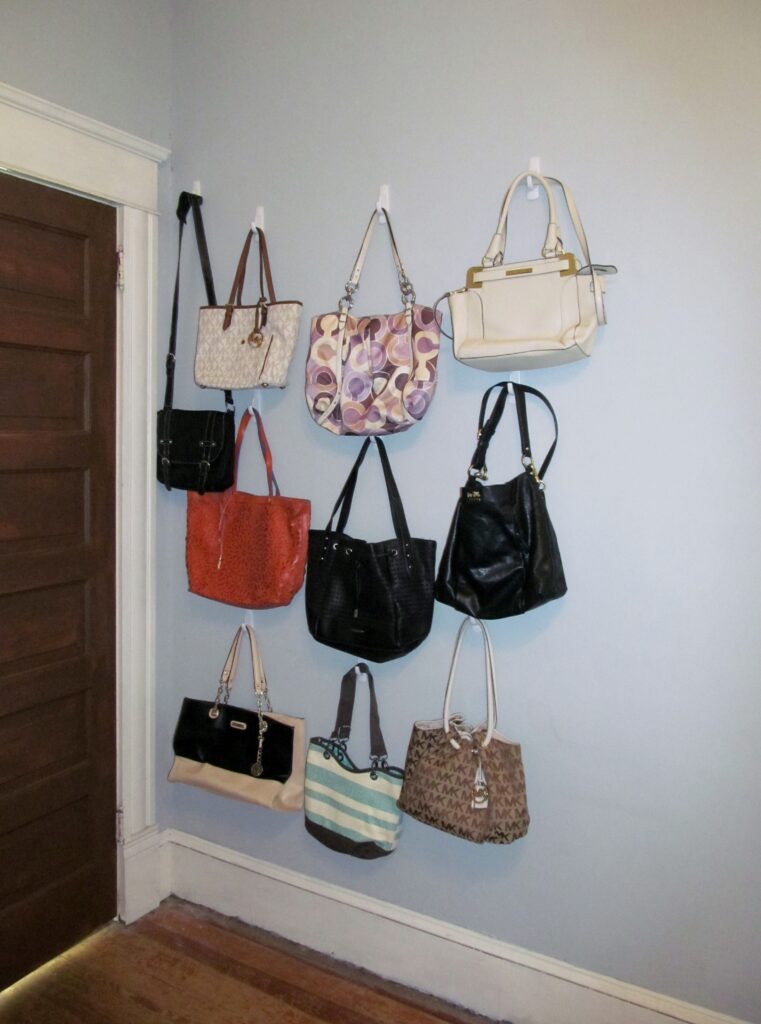 I searched online and on Pinterest for ways to store and display handbags. Most of what I found included storing them away where I couldn't see them or in a shelving unit that I don't have room for in my house. I needed something that wouldn't take up a lot of space so I came up with the idea of getting a bunch of Command hooks and hanging them on a wall near my closet.
I thought I could hide them behind a door but it took up more space than I anticipated. And I probably didn't space them out well either. But it works and suited my needs. Plus it was super easy to do and I can rearrange later as I add to my collection. Hey, now that I got rid of some handbags, I might need to find a replacement or two, right?!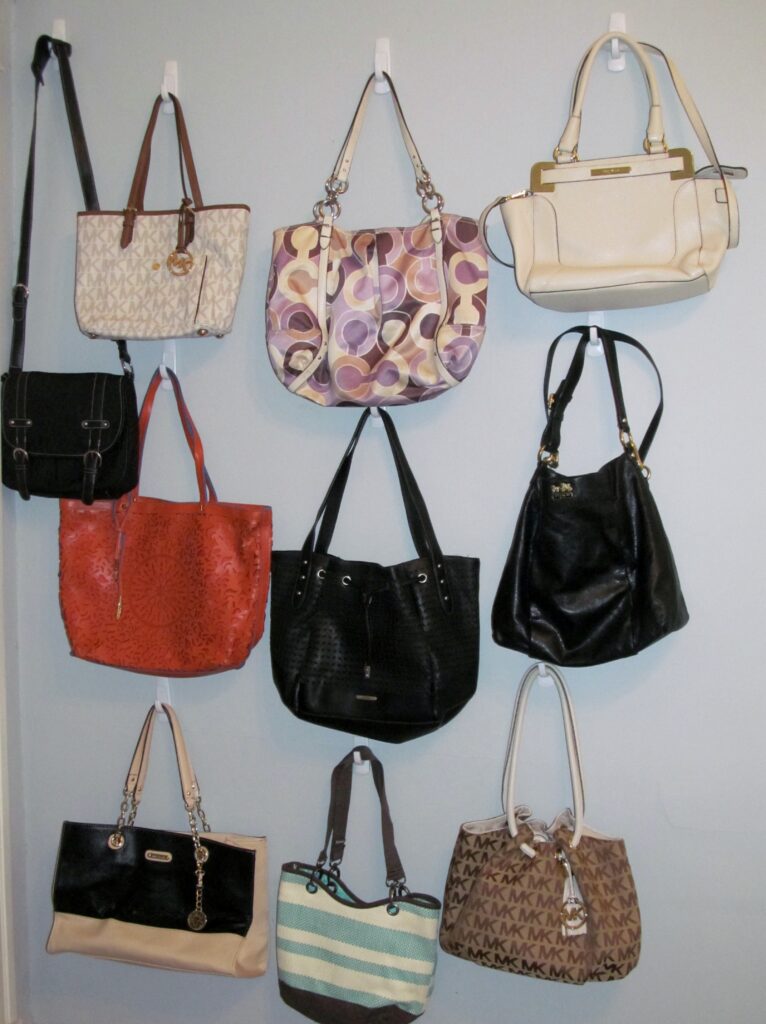 How to Organize Your Handbags & Purses
Leave me a comment below, I would love to know how you organize and store your handbags. Do you keep all of your purses tucked away in a cabinet or on a shelf? Are you lucky enough to have a walk in closet with display cubbies for your purses? Leave your best handbag organizational tips in a comment below. Don't Miss These Great Blog Posts: