Some of the links in this article are "affiliate links", a link with a special tracking code. This means if you click on an affiliate link and purchase the item, we will receive an affiliate commission. The price of the item is the same whether it is an affiliate link or not. Regardless, we only recommend products or services we believe will add value to our readers. By using the affiliate links, you are helping support our Website, and we genuinely appreciate your support.
(This post was last updated on: 12/20/20.)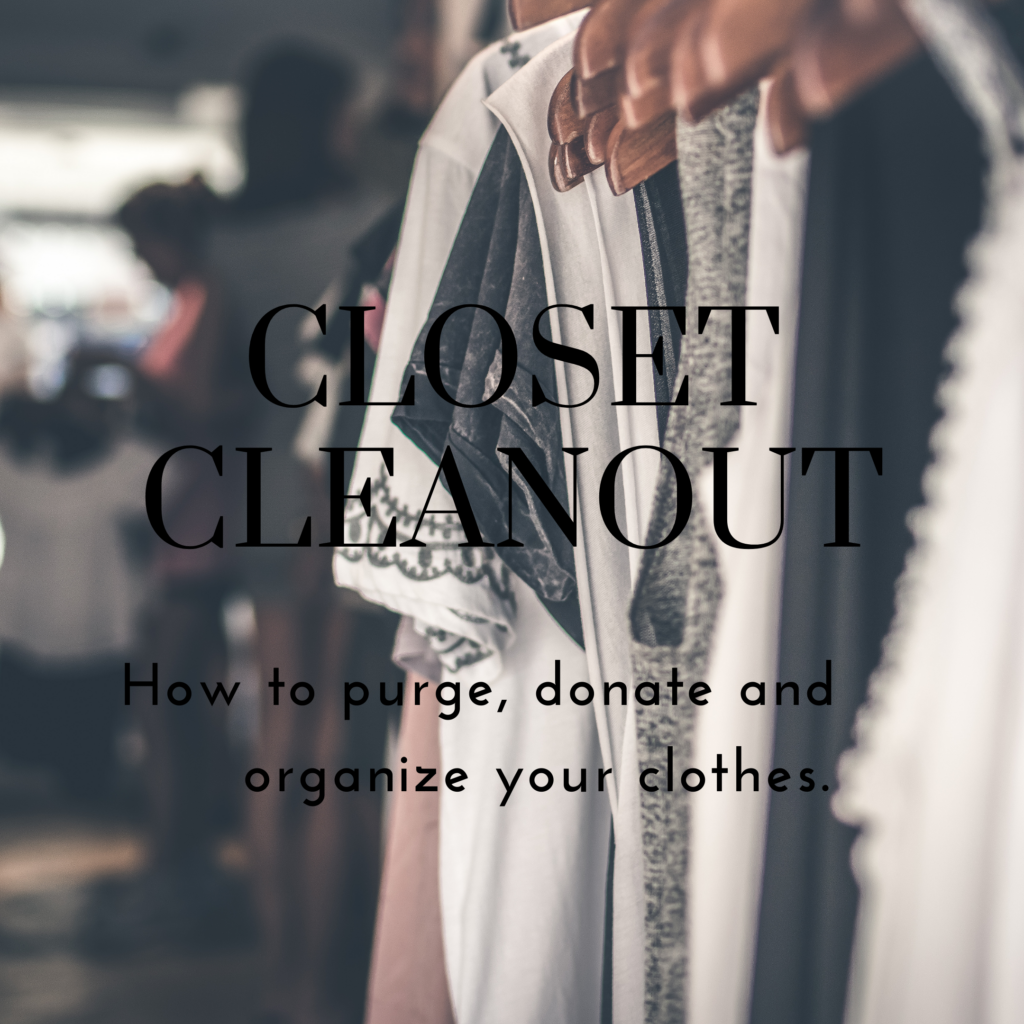 I am so overdue for cleaning out my closet! As the colder weather approaches, what better time than now to sort everything out, purge items that I no longer use and to inventory what I have for the upcoming fall and winter months. Check out my closet clean out and how I reorganized it all.
Inspiration hit as I was reading Marie Kondo's Book The Life-Changing Magic of Tidying Up. Her ability to purge and organize is beyond amazing. If you have ever watched her Netflix show Tidying Up with Marie Kondo, you see that her approach to organize a home is to always start with clothing. I think it's probably one of the easiest areas of the home to clean and gets you in the mood to continue on to other areas of the home.
Marie Kondo's technique begins with taking every item out of your closet and putting it all in one spot. I think you are supposed to be shocked by the amount of clothing that you own, which I know I was. I put everything out on the couch and I couldn't believe how much I had accumulated.
Then one by one, pick up each article of clothing and decide if you want to keep it, repair it or donate it. I ended up with five, yes I said FIVE kitchen trash bags of clothes to donate. And somehow my closet is still full, well there is space now in between sections but still, there are a lot of clothes in there.
When I was sorting through each item, I thought about how often I wear the item, does it still fit, is it beyond repair, is it completely out of trend and not timeless, etc.?? That made it pretty easy to decide whether I would keep the item of clothing or donate it to someone that would get more use out of it. I only had about seven pieces of clothing that I needed to try on in order to make a decision.
How to Organize Your Closet:
Once I was done with my closet clean out, I had to decide how to organize my closet. On the top rack I separated clothing into categories from left to right: dresses and skirts, bathing suits and cover-ups, lingerie, long sleeved blouses, flannels, sweaters then hoodies and sweat shirts. On the bottom rack I created more categories from left to right: sleeveless tops, white and black camis, short sleeved shirts and pants/jeans. This system works well for me and makes it easy to put clean laundry away. I am not anal enough to separate by color.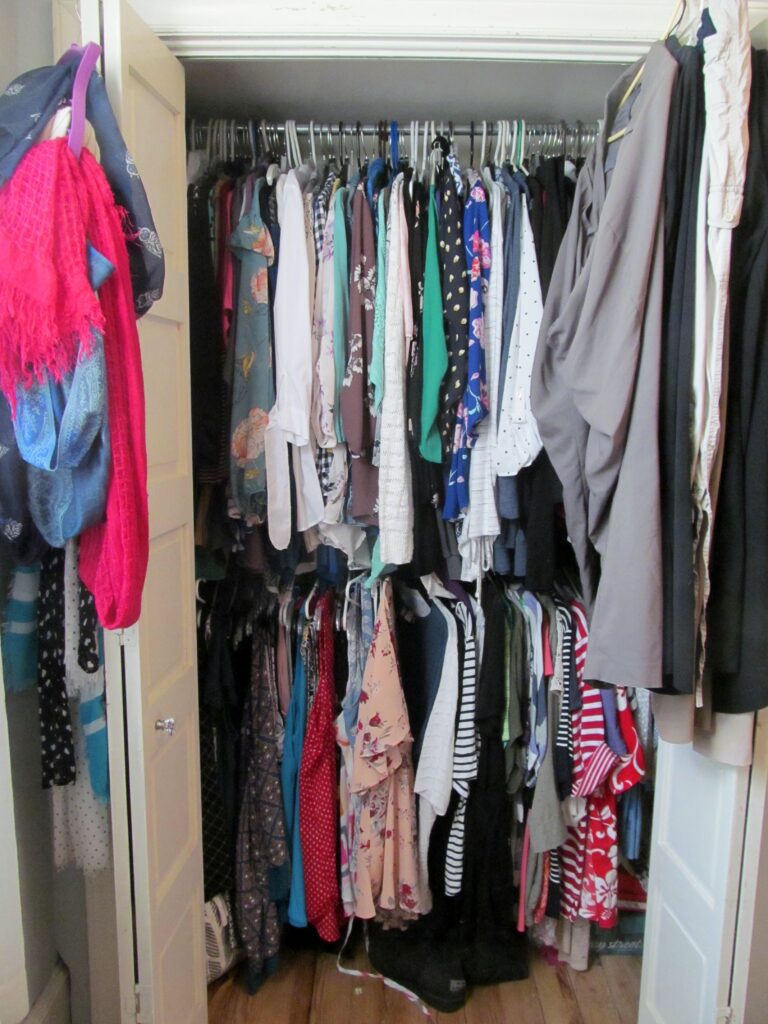 While I was sorting out my closet, I also went through my collection of scarves. I picked out four to add to my donation pile. And one of the items on my Fall Bucket List was to donate 3 scarves before I bought any new ones, so CHECK! That's one item off my bucket list. I have two cute owl scarf holders that I hang on the back of my closet door for out of the way but convenient storage.
So then the question was, what do I do with five bags of clothes that I wanted to get rid of quickly? Well I called a friend that I know who would like to check out what I had to donate. And I know she has other family and friends that she can pass stuff along to as well. So that made it pretty easy and painless for me. She even came to my house to pick it all up. If you are not that lucky to have a friend you can call that lives nearby, there are several places where you can take clothing donations to around Charlotte.
Clothing Donation Locations in Charlotte, NC:
Turning Point– A shelter for victims of domestic violence including multiple thrift shops that accept donations, proceeds go towards the women staying in the shelter.
Goodwill– Several thrift stores throughout the Charlotte Metro area are an old tried and true place to donate clothing.
Clothes Mentor– A store where you can sell gently used items. Read about my recent experience selling handbags and how the process works.
Crisis Assistance Ministry– The store located in Charlotte allows families in need to shop for free.
Dress for Success– Professional and work attire is given to women who are reentering the workforce.
How I Saved Money:
Just by doing this closet clean out, I have saved myself quite a bit of money. First, I was running out of hangers and almost bought some new ones. But after cleaning out my closet, I have more hangers than I know what to do with. I discovered a top that I bought online that was one size too small but I never returned it. Honestly, I thought by now I missed the deadline to send in the return, but I still had 10 days left. So off to the UPS store I went and sent it out to get reimbursed.
After my closet was purged and reorganized, I have an inventory of what I own and what I need. I tend to purchase tops that look like ones I already own because I forgot I already had one in that color or pattern….because my closet was so jammed packed I couldn't see what was in there. So again, it will save me money by not buying duplicate items. If I wanted to make some extra cash, I could have tried to consign some of the clothing at Clothes Mentor.
I hope my closet clean out project inspired you to stop putting off cleaning out your closet. Leave a comment below to share your best tips on purging clothing or donation locations. When is the last time you cleaned out your closet? I love to read your comments and recommendations. Don't Miss These Organizational Posts: