Some of the links in this article are "affiliate links", a link with a special tracking code. This means if you click on an affiliate link and purchase the item, we will receive an affiliate commission. The price of the item is the same whether it is an affiliate link or not. Regardless, we only recommend products or services we believe will add value to our readers. By using the affiliate links, you are helping support our Website, and we genuinely appreciate your support.
Learn how to Beat Your Stress at Bath & Body Works! (This post was last updated on: 2/18/21.)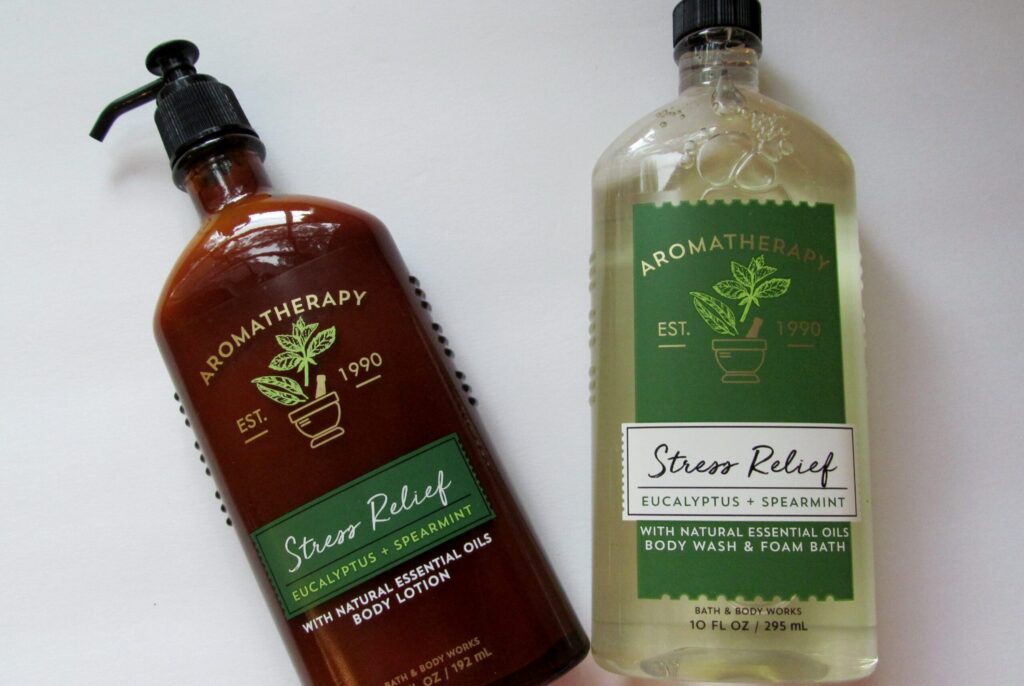 Have you checked out Bath & Body Works lately? The store is such a treat to shop in. Just browsing around the displays and smelling each scent can be so much fun. One of my girlfriends and I used to go on a regular basis when we needed some time away from the house or our husbands.
I was just introduced to their aromatherapy line and it is to die for! We recently posted about the importance of self care. This line of products is perfect if you are searching for ways to treat yourself.
A hot bubble bath is one of my favorite ways to unwind. I have the Stress Relief body wash and foam bath and the body lotion in Eucalyptus & Spearmint. I love both products so I figured I had to share them with you.
Each bottle is selling for $13.50 right now, but Bath & Body Works is offering a free item with a $10 purchase and free shipping on orders of $40 or more. Offer ends today, use promo code: FRESHLEAVES.
I also love the packaging of these products. They come in pretty glass bottles which is unusual these days. Any product from the aromatherapy line would make a great gift, especially for teachers with school starting up soon. My co-worker has a bottle of the stress relief lotion sitting on her desk for anytime she may need a little break throughout the day.
The aromatherapy line has a few other scents too like lavender vanilla, rose vanilla, eucalyptus tea, sage cedarwood, black chamomile, jasmine sandalwood, orange ginger, lavender cedarwood, and vanilla patchouli. The line also offers a variety of products, more than what I have such as body oil, hand cream, body scrub, essential oil, bath fizzy, pillow mist and sugar scrub.
I would love to hear about your favorite Bath & Body Works products and scents. Have you tried any products from their aromatherapy line? Leave a comment below!! Don't Miss These Great Blog Posts: