Some of the links in this article are "affiliate links", a link with a special tracking code. This means if you click on an affiliate link and purchase the item, we will receive an affiliate commission. The price of the item is the same whether it is an affiliate link or not. Regardless, we only recommend products or services we believe will add value to our readers. By using the affiliate links, you are helping support our Website, and we genuinely appreciate your support.
We are here to help you plan out how to stock up your freezer and fridge with lots of yummy goodness. We will lay out a 5 week program with a weekly focus on either, breakfast, lunch, dinner, dessert or snacks. At the end of the 5 weeks, you will have so much food prepped and stored, it will free up time in your busy daily schedule to spend more time with family or doing fun things that you haven't been able to do lately.
Week 3: Snacks
Having prepared snacks on hand makes packing lunches so much easier. It's also great to have a snack drawer labeled in the fridge for kids to help themselves.
Menu: Veggies & Dip, Peanut Butter & Celery, Trail Mix, Cheese & Pepperoni, Granola Wraps and Yogurt Bark.
Veggies & Dip: Grab a bunch of sandwich baggies and put a few baby carrots and one cut up celery stalk in each baggie. Pour some ranch dressing into small Tupperware, then put one cup of dressing into each baggie. Hack: Purchase the pre-made Ranch cups at the grocery store (one box has 8 cups). Store in the fridge.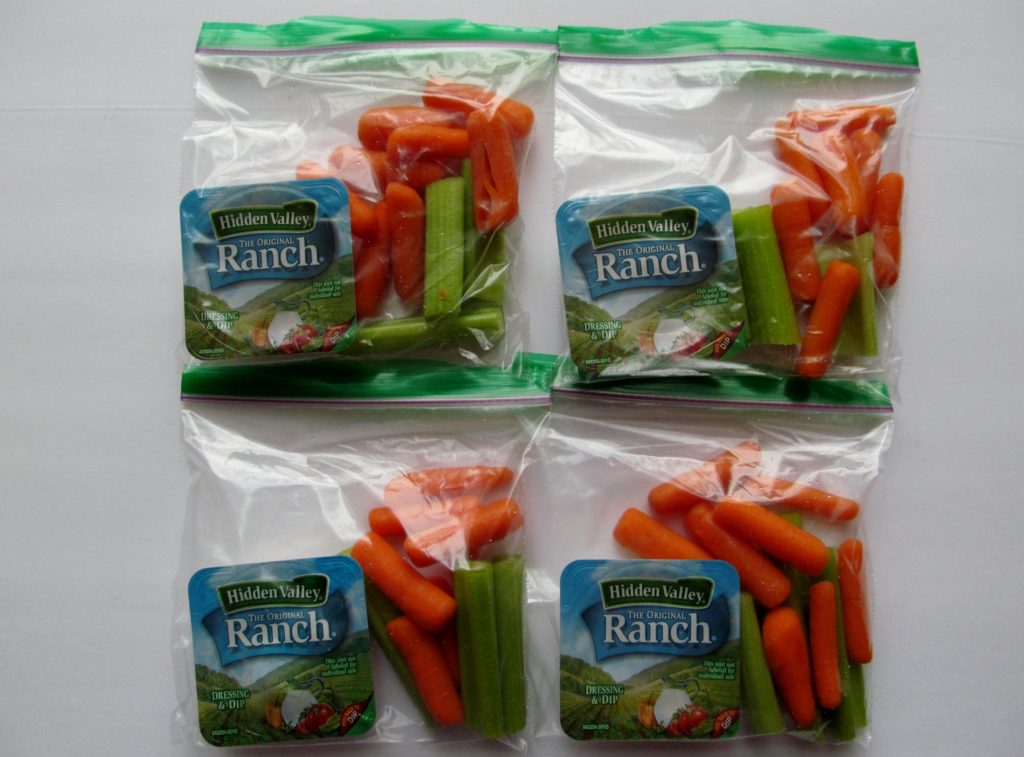 Peanut Butter & Celery: Cut several celery stalks into pieces approx. 3-4 inches long. Smear the top of each stalk with peanut butter. I like to store the snack in Tupperware or wrapped in tin foil. Store in the fridge.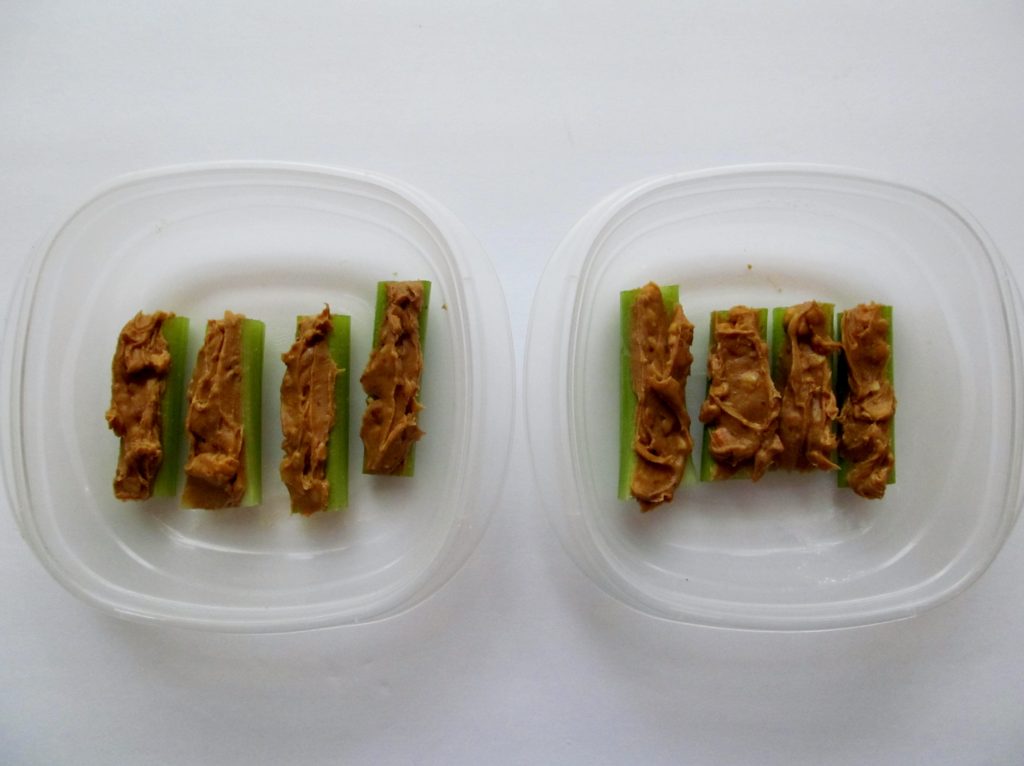 Trail Mix: There are a million ways to make homemade trail mix. It's pretty easy, just pick some sort of grain, nuts, seeds, dried fruit and something sweet. We chose to use: oyster crackers, cocktail peanuts, wasabi flavored almonds, sunflower seeds, raisins and M & M's. Mix everything together then store in a mason jar or Tupperware. Hack: You can get store bought trail mix and divvy it up into snack sized baggies or buy individual snack packs of trail mix, but making it yourself is the most cost effective way.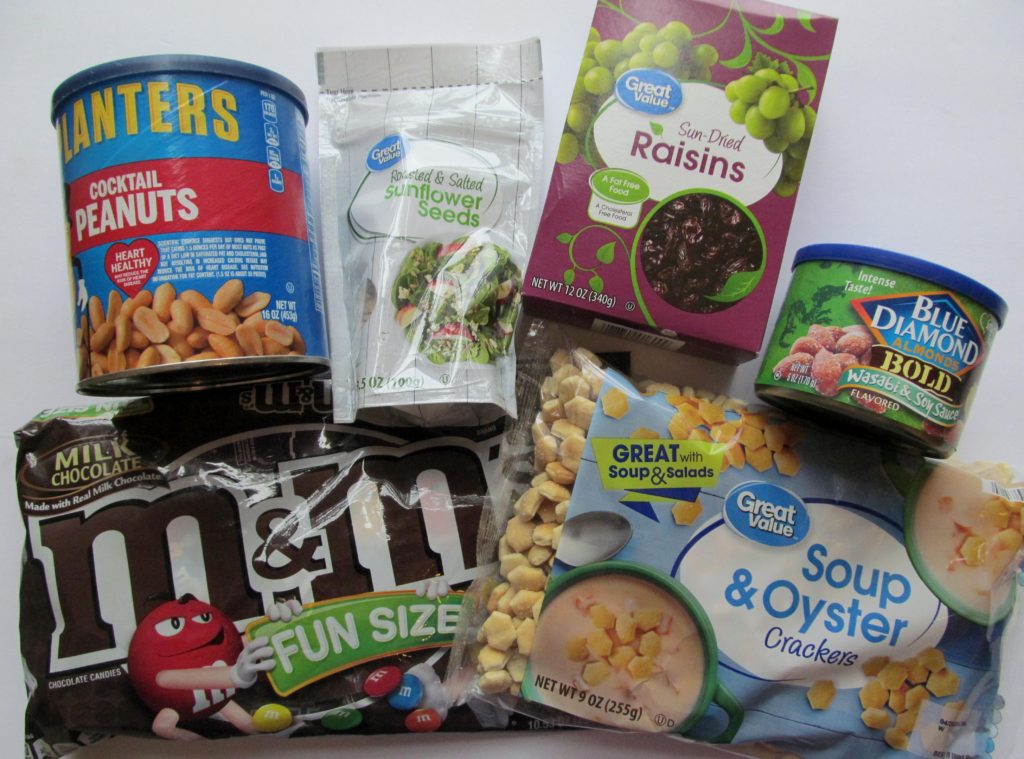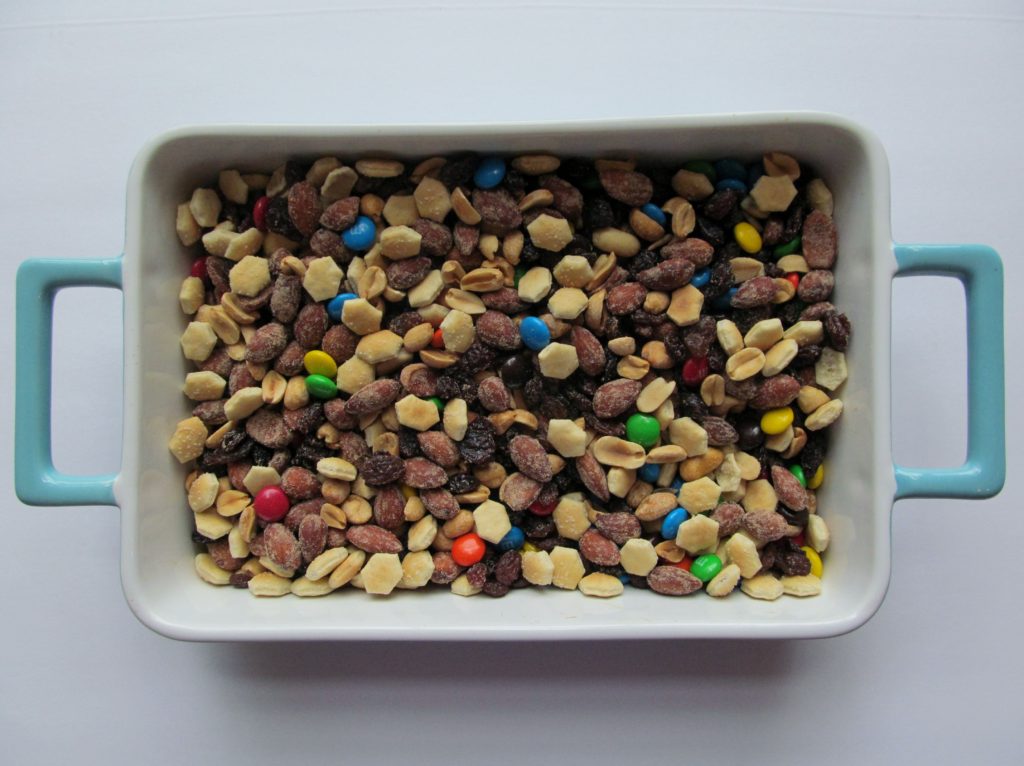 Cheese & Pepperoni: Cut up a block of cheese, I like gouda, cheddar or colby the best, into bite sized pieces. Slice a log of pepperoni into ¼ inch thick slices. Place a few pieces of each into a snack sized baggie and store in the fridge. Hack: Buy a bag of pre-cut cheese blocks and sliced pepperoni at the deli.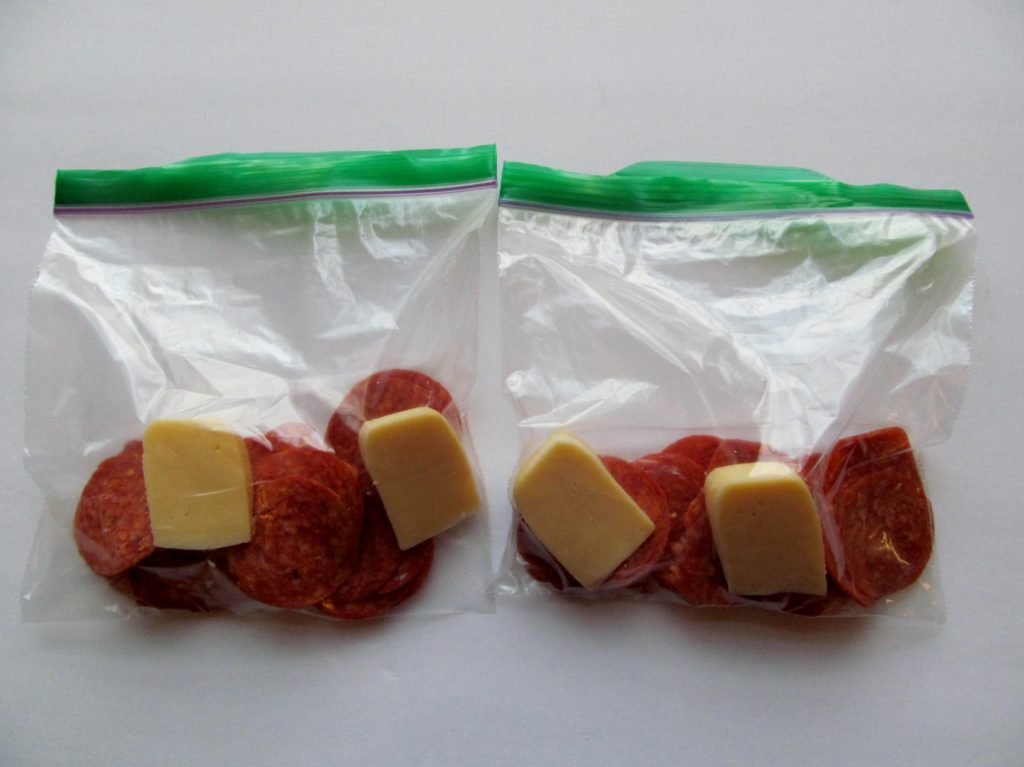 Granola Wraps: Lay out several small flour tortillas. Spread a good layer of creamy peanut butter on each tortilla. Place a 2 tablespoons of granola along one edge of the tortilla. Log roll the tortilla, starting with the granola side. Place each tortilla in a sandwich sized baggie, store in the fridge. Tip: Check out our previous post on how to make homemade granola. Tip: You could add a little bit of chopped dried fruit to this wrap such as bananas or apples.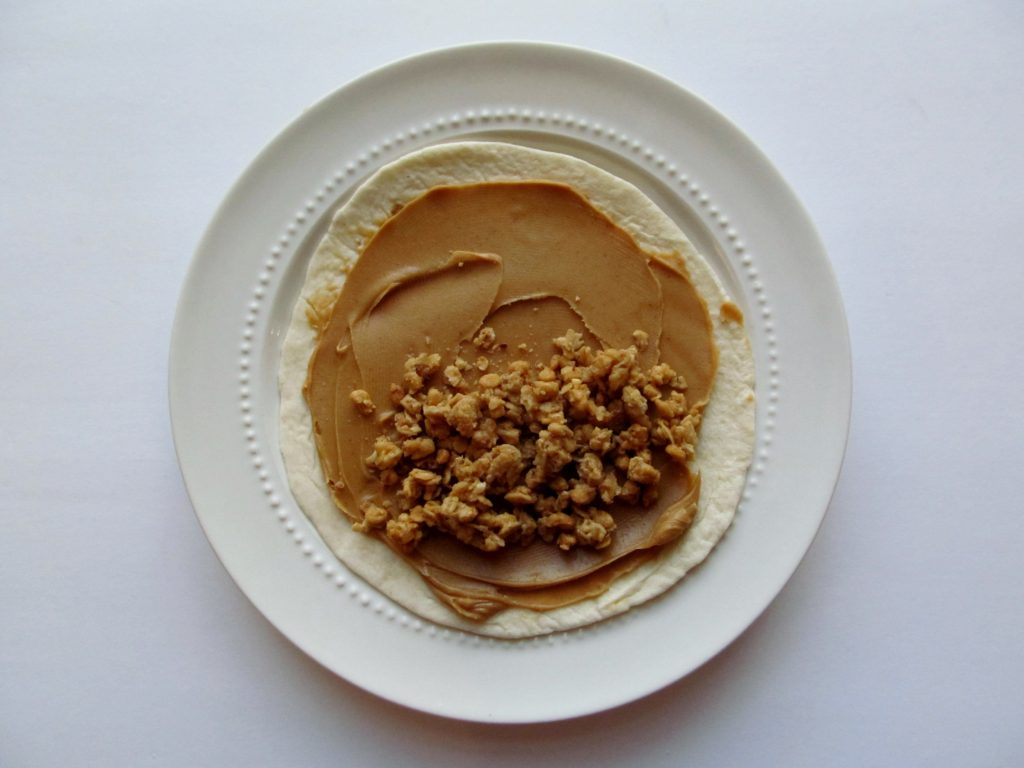 Yogurt Bark: Line a cookie sheet with wax paper. Spread your favorite yogurt all over the wax paper, we used plain Greek yogurt for this recipe. Then sprinkle with blueberries and pecans. Use the palm of your hand to carefully push the berries and pecans into the yogurt. Place the cookie sheet into the freezer for 2 hours. Carefully pull the yogurt bark off the wax paper and break the bark up into pieces. Store in the freezer in a freezer bag or Tupperware container.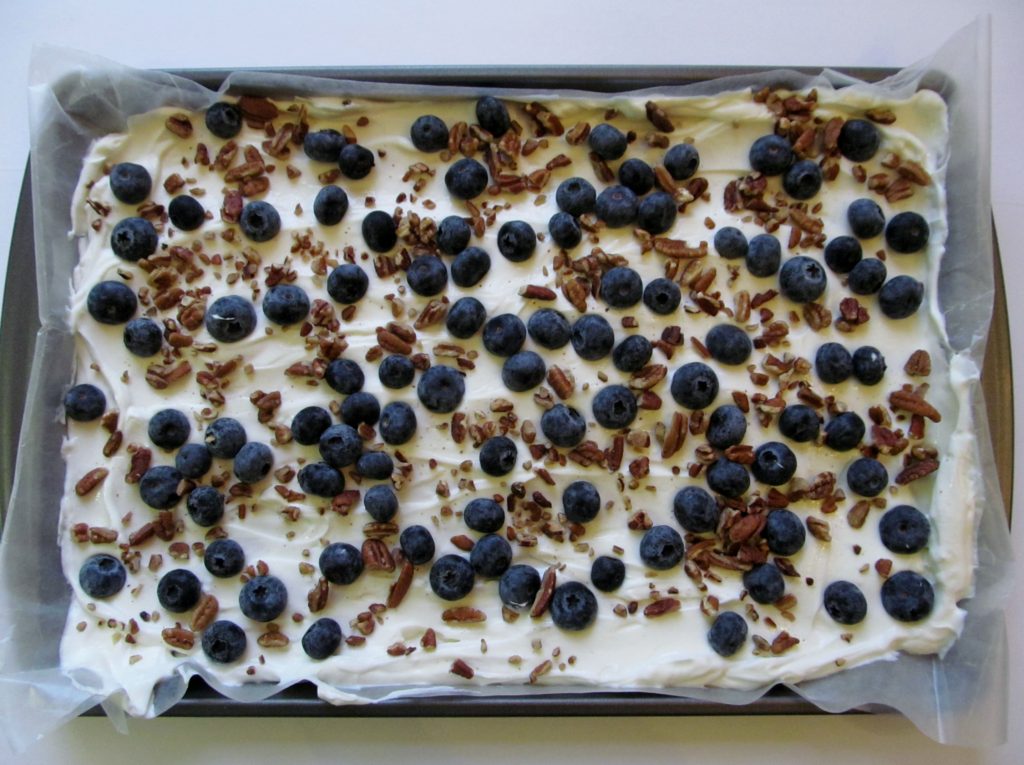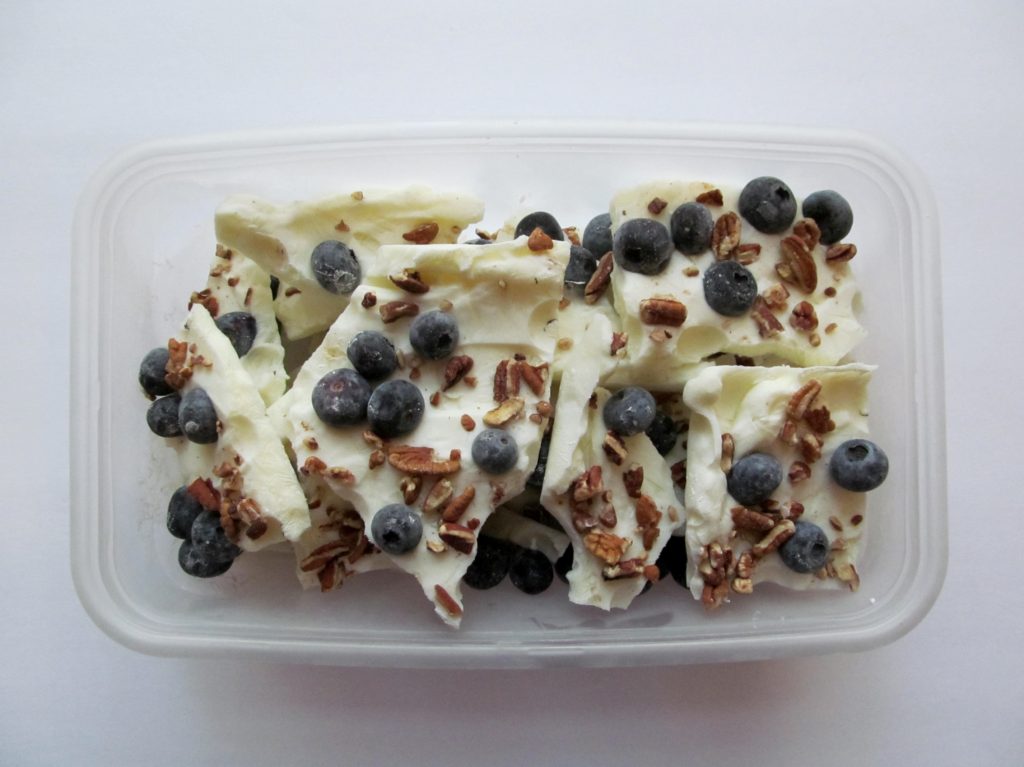 General Snack Hacks: Buy a bag of Cuties, no prep work needed. Wash and freeze grapes for snacking and to keep your wine and cocktails chilled (doesn't dilute a good glass of wine like ice does). I also love snacking on frozen grapes!
If you missed Week 1 of our Meal Prep Plan, catch up on prepping breakfast meals.
Week 2 of our Meal Prep Plan was all about stocking up on lunches.
Let us know what snacks you like to prep ahead of time or have stocked up in your fridge and freezer in a comment below.